24/08/19 10:12
Saturday was a nice day weather-wise, beer-wise and footy-wise. First up I went up to the
Neptune Brewery Tap
in Maghull, for the first time since going on the opening weekend, for a couple of beers with my good mate, Tony. It was Tony's first visit.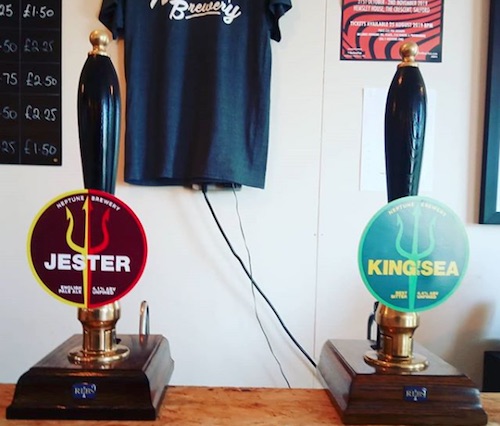 'Jester' and 'King of the Sea' in the Neptune Brewer Tap
Started with a couple of cask ales, which were '
Jester
' and '
King of the Sea
' (they have two cask lines and then the rest in keg) and then I went for their collaboration beer with
Brass Castle
'
Bozza Don't Surf
'. So that's why there's a rare pic of me with a half pint glass. The ale (7.3%) is gorgeous and I thoroughly recommend getting your mitts on some if you see it around.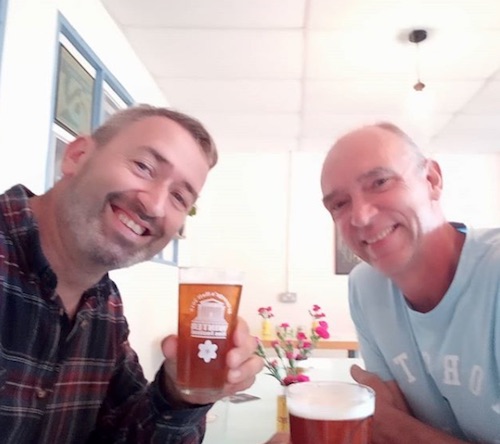 A rare event for me… a half AND it's a KEG! (don't tell anyone)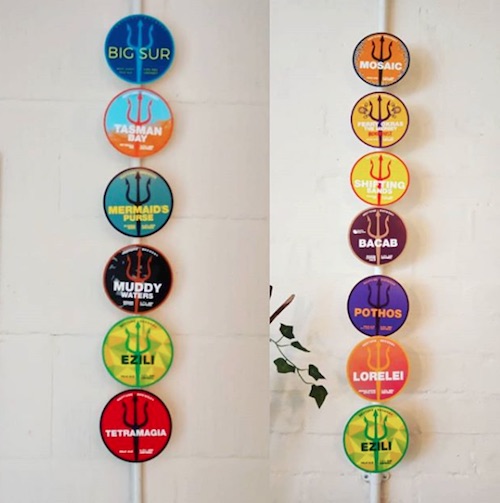 Pump clips for some of the many beers Neptune brew - one of each please…

Merchandise, branding and snacks in the Neptune Brewery Tap
As it was a Bank Holiday weekend they had food on from
The Great British Chip Shop
on the Sunday and Monday - not on the Saturday. Nice to see companies working off each other that way. Les and Julie and the rest of the crew have done a fab job creating the tap and I'm sure it will be a brilliant success. If you are ever in the Maghull area over a weekend you should check if the Tap is open and get your chops around a few of these guys beers. You won't be disappointed. The brewery is at Unit 1, Sefton Lane Industrial Estate, Maghull,
L31 8BX
. Easiest way of getting there is usually just to get the train to Maghull Station and from there get a taxi - Blueline taxis have an office opposite the railway station.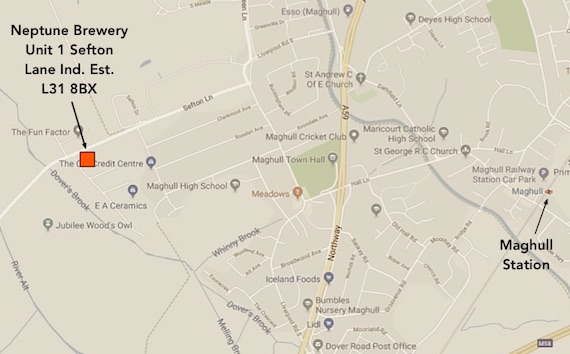 Had a problem waiting for a taxi to return back to Maghull Station (should have booked it earlier: I blame the taste of the beer making us want to stay longer). Julie very kindly volunteered to run us down to the station. A star!
Got the train back to town and went to meet Ste in
Fly in the Loaf
where we watched the Liverpool v Arsenal match. Well, what can I say. Another nice ale or two in the Fly and a fab win from Liverpool (3-1). Happy Days!
Like I say, it was nice weather wise too. But largely it was spent indoors. Enjoyable nonetheless.
If you wanna check out these guys on Twitter they are:
Neptune Brewery - @neptunebrewery
and
neptunebrewery.com
Brass Castle Brewery - @BrassCastleBeerFly in the Loaf - @FlyintheLoaf
29/07/19 17:38
The football season is almost upon us–I know, it already is for some none Premiership footy fans, but I'm talking Liverpool. Anyway, I'm also talking Fantasy Footy. I've done it the last few years. Generally the better Liverpool do, the better my team does. Stands to reason with the reliance on three players from Liverpool every time. Just put up my provisional team and the most difficult thing was picking which Liverpool players to pick (on the Fantasy Footy League I'm in you can only pick a maximum of three from any one club; I do the
fantasy.premierleague.com
one).
How could I not pick Robertson or Allison? I ended up going for Salah, Firmino and Keita. I wanted Mane but couldn't afford him, and maybe Origi is worth a punt or Ox; this football management lark is quite difficult.
It asks you to select colours for a kit. Of course you could ignore it. But then again you could just select: red, red, red, red.
May set up a league for VSSers. But not sure how many would be interested. Need at least eight to make the league look like a league and not just a match.
I've selected a crap team name. And defo need to change that before the season starts–now that's not a problem a manager usually has (unless he's at Hull). Something based around Six probably.