23/05/18 21:36
Three days in and I'm STILL continuing with my first
BuJo
effort. I wonder how long I will actually continue it? Seems a good idea so far though. May even get into making it look pretty at some point (not with my handwriting though, cos that is bloody awful).
Updated the
Class Song Of The Day
page for this second year and I think it looks a lot neater with the 'Weekly' lists. Makes it look cleaner and I think more user friendly too. Let's face it that's what web pages should be about hey?
And such tunes...!
Trying to keep the updates coming on the website in the blog regularly too. Mind you not sure how much this week. The weekend will be taken over by a certain footy match. Jealous of everyone in Kiev this weekend. I was lucky enough to go to Istanbul and Athens, though for the latter I didn't get a ticket or go in the stadium (ended up watching the match in the Craft Beer Bar. The chances!). My week in Sunny Beach and Istanbul was one of my best holidays ever. I mean come on, what a match. What an occasion! Traveling with loads of fans, the songs, the colour, the banners, the beer (well, okay not necessarily the taste of it), a great city, a half finished stadium, the laughs.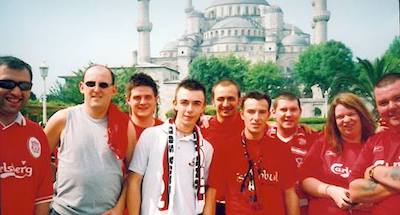 The victory was great too!
20/05/18 22:36
I used to keep a diary (or journal if you're from the other side of the Atlantic) and sometimes it was quite detailed. But I stopped doing it quite a few years ago now. I think partly because even if I had a boring day it would take me 15 mins or so to write up my day and thoughts and while looking back at them now they were okay to read I felt those 15 mins could be better spent. Or something like that.
But I have missed it in some ways; it was always nice to be able to go back over events (and dates of when they happened).
Over the last few weeks I've seen a few people on Twitter mentioning Bullet Journaling. And the idea has piqued my interest. As well as my previous love of writing a diary journal thing I'm also a bit of a sucker for a list. So the idea of BuJos seem good in both ways.
I've been on a few websites looking at how it works and think I've got to grips with it. But it is a shame none of the websites seem to have a single page 'cheat sheet', which surprises me as the websites suggest the idea is a bit clunky - and it's not really.
After a quick look at the websites today I realised I had a spare empty notebook so I thought I'd give it a go and see if I can keep it up. At least after a fashion.
If you are interested have a look at the
BuJo website
.
I may well put up a 1 page cheat sheet/background up here at some point soon.