The footy season is over and boy what a season it was. When people complain we 'only' won two cups then they need their heads testing if they are (supposedly) Liverpool fans, or jealous if they are unlucky enough to follow another team. I missed the parade after 2005 as I'd been at the match and the parade was taking place when I was making my way back and then at Sunny Beach. It looked amazing. The next one I did get to was for when we won 'only' the `FA Cup. And the following one was three years ago when we won the European Cup (or Champion's League if you must be a pedant). And what a fuckin' parade that was. It was unbelievable for the fans, the club, and the city (at least for half the city anyway). Of course when we won the League (okay, the Premier League) we were unable to celebrate it appropriately due to that damnable virus. Then came the season that was 2021/22.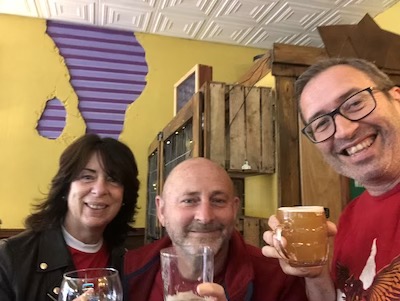 Three years on and back in the Sanctuary for a pre-parade pint. Cheers!


It's just been a brilliant season. Would have loved to win either the league or the Champion's League, but hell we ran those competitions as close as humanly possible, whilst winning the only other two competitions we were in whilst playing an incredible 63 games - and lost only 4 games all season. The last game of the league season went within about half an hour of us improbably winning the title when Villa conspired to take a two nil lead against City and then give it away plus one. For a while there was hope. And it's the hope that kills ya!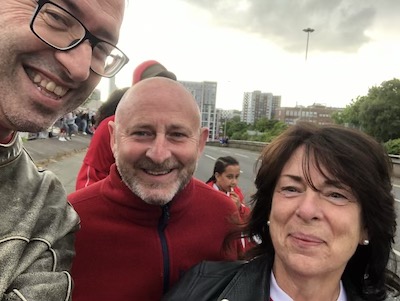 Same spot as last time for the parade (minus the flyover).


Then came the Euro final and it was in many ways an anticlimax. We lost by a solitary goal after largely being the better team, but being unable to quite finish it off. Perhaps those 63 games had told. For heaven's sake that may be why winning all four of those competitions has never been done before. As the late kick off got announced and the stories of what was happening in France slowly filtered through the game became secondary and a real shame for what should after all be the showcase of the beautiful game. So we didn't win. Shame, but we'll fight on. And what a team we have. Changes are inevitable and Mane announced he was to leave the club in the summer and we know not yet what is in store for Salah and Firmino, who's contracts are up at the end of next season (as Mane's is). Then there's the Kop Legend that is Origi saying farewell too. It's the nature of the game.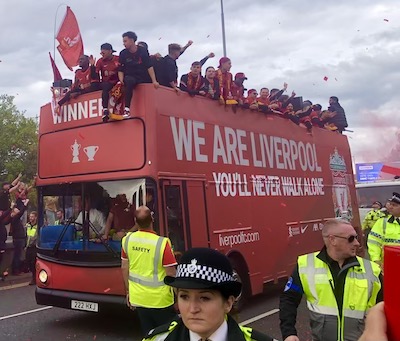 So on Sunday I went out to cheer on the teams (including the Ladies, who'd won promotion to the top table by becoming champions themselves). My friends almost didn't come out after being 'a bit tired' from the night before, but sense prevailed – and they were glad they made the effort. We made the decision (well I did) that we'd do what did last time and meet up in the Sanctuary on Lime Street and watch the parade's progress on YouTube so that we could time our move to the route at a decent time. It went, like last time, perfectly.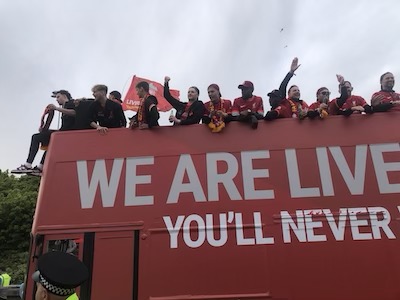 The parade looked brilliant in person and along the whole route on YouTube. It could have been a flat atmosphere after the two close-but-no-cigar moments of there preceding weeks. The fans and team are really something else.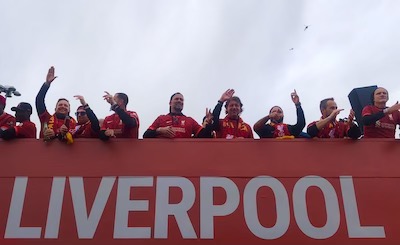 Klopp in the centre of Liverpool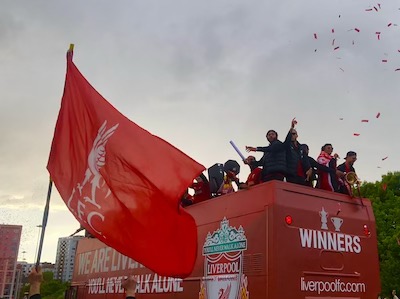 Liverpool really do put on the best displays.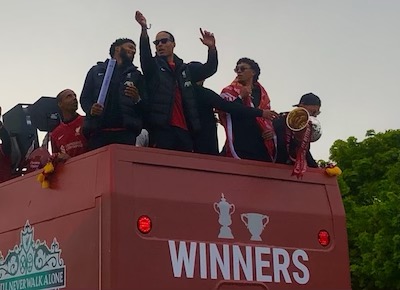 A great defence at the back; of the bus.
Post parage pint in Doctor Duncan's - with my old Euro Flag t-shirt.


In the aftermath of Paris there has so much come out about the organisation and policing it was gobsmackingly awful. Watching some of the footage it is incredible how well behaved the fans were with the provocation from the police and the local yobs. It could have been so much worse. It is amazing that no-one was killed. The French have of course spun the old trope of English football hooligans and Liverpool in particular. The footage shows otherwise, They claim that there were tens of thousands of fans with forged tickets. This was not the case. Although I'm sure there would have been some of course.

I went to Athens back in 2007 after I'd booked flights months before just in case we got there. We did. I stayed on a small island in the Bay of Athens and had to get into the city by ferry each day I wanted to visit. It was a lovely week, I ended up unable to get a ticket for the final – and giiven our history in particular I would never have used a blag one. Ended up watching the match in the Craft Bar with some old time fans who'd been to all the previous Euro Finals but been stuck like me without one. It was a great night in the end despite our defeat. Ended up drinking until 8am (which was handy because that was the time for the first ferry in the morning). Almost forgot we lost by that point.

In the year between our two matches with AC Milan I'd similarly booked a flight 'in case we got there' for the final – it was in Paris. Met up with a few Liverpool fans there that had done the same thing. It was an interesting weekend in a multitude of ways – including see how the Arsenal fans were (a little bit embarrassing – why the hell sing songs about Spurs when you're sat in a bar in Paris awaiting your first cup final? The mind boggles.). But the worst thing was the police. At one point a young black man was walking past a cafe I was in and the waiter started shouting something at him. A couple of policemen arrived on the scene and promptly handcuffed the man to a railing by the main road. They then proceeded to batter the man with their batons. He'd just been walking past the cafe and was fully restrained. No one did anything. It was something the locals had evidently seen before. It was shocking. The next day I was having a coffee in a square in the sunshine. There were two couples sat on a grassed area chatting beneath some trees. Two policemen walked up the small slope towards the couples and proceeded to use their batons on the poor people. The couples were black. It was daylight, Lunchtime. There was no fear from the police from doing what they were doing. It was totally messed up.

Seeing what the police were doing at this year's cup final it is clear that they are a fucked up organisation – and evidently the French expect it of them.

Yesterday Real Madrid issued a statement about the treatment of their fans at the Final, and UEFA then seemed resigned to have to quickly apologise after that. It is good that Madrid did that but it is of course obnoxious that UEFA were happy to say nothing as long as it was just Liverpool fans, who they evidently felt could take the blame for their callous ineptitude. Both UEFA and the French police have a lot to answer for – I don't expect anything to improve in the short term. It would be nice to think that something positive would come out of this, but I wont be holding my breath. Then there is the French Government and their immediate knee jerk reaction to blame the English fans rather than to step back and wait for investigations and heads to roll. Truly awful.


All in all the events around the final have left a sour taste in the mouth. And I've barely thought about the actual football game. A crying shame.


YOU'LL NEVER WALK ALONE
My Return to the Sofar (and Another Fine Return)


I last went to a Sofar gig in September in a place called Slate. It featured the excellent Heavy North who have subsequently gone on to release a really rather wicked album. Get on it. But last week I got a ticket for my second event. For those that don't know the deal, the ticket is for £10 and you don't find out the location (other than the city) until 36 hours before – and you don't know who is playing until they get up on the stage (or their name is on their kit!).

Last week the venue was
One Fine Day
on Old Hall Street. The venue itself is not currently permanently open, but is used for individual events and weddings etc. I'd never been to there before and it proved to be a nice place with good acoustics. It was really busy with not a seat left as far as I could see and I ended up sat at the front. I moved along to help a couple of later comers get nearer and sit together – and therefore I ended up in a nice padded seat instead of a plastic one. Win win.

The three acts of the night were all fab. Loved the local singer songwriter
Eleanor Nelly
's stories and attitude – and her songs and singing was excellent.
Taylor the Chapter
, who wants to never be known as Gary, was solid. And finally the main act were a Wigan four piece called
Stanleys
. They looked so young to me, but so does everyone these days. There songs and assuredness were great. I've already spent some time listening to them on Spotify. They could definitely go on to be pretty successful if this performace was anything to go by. I believe they have already supported the Lathums, which is pretty impressive.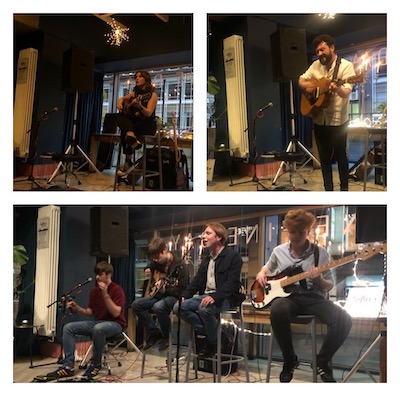 The
Stanleys
played five songs:


'What's Been and Gone'
'Why Would I?'
'A Better Life'
'Look Back'
'Maybe'


Check them out on
Spotify
, or better still get on down to see them when they're next playing near you.

The following day was the return of the Open Mic hosted by John Witherspoon. The
Belvedere
pub had snaffled the gentleman and given him the opportunity to host the event following the recent demise of the Keystone. It was held in the upstairs room on the left. Despite the announcement on just being made earlier in the week the news had spread very well amongst all the regulars from just that short distance down the road.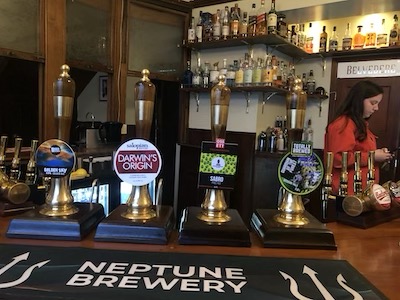 The beer was on.
Great to see so many turn up. It became a most memorable night when the entire area around this part of Liverpool was plunged into a power cut and the playing continued without the PA and under candle light. Moody stuff.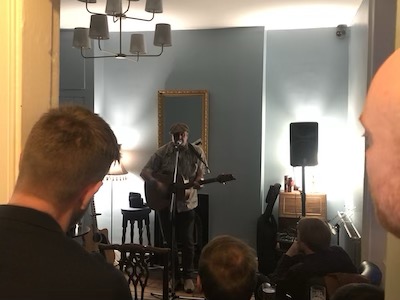 The lights were on…
… the lights were off.
Another Strange Thursday


After a strange night last Thursday and the a good, strange one last week it was time for another strange Thursday–and this one a very sad and poignant want. At the start of the week there came an announcement that had been mooted for a short while that the Keystone was to close down. The home of my almost weekly open mic nights out. Closing. Bloody hell. And although the announcement was only made on Tuesday it was not a 'heads up' it'll happen eventually, it was a 'it's closing this very week.' Bloody awful.

Really feel for all the great staff who are having to look to ply their trade elsewhere. Thankfully it appears that, at least some of them, have quickly found some work in other Liverpool city centre pubs and (at least one) in a new brewery tap–and another returning to another field that she hasn't worked in for a while. Sometimes an end is an opportunity. Good luck to them all of course.

Personally to me it is a sorry shame to lose one of my favourite pubs of the last year. Last year it burst onto the scene due to its great garden, when so many pubs in the city don't have them. It allowed them to open up when most pubs couldn't. I had many a nice afternoon and evening there either reading, or writing, or just chatting with the staff and the regulars (and sometimes very irregulars). I did my best to introduce it to friends and drinkers, whilst hoping it wouldn't become too popular with the wrong regulars. Then in November the open mic was started, hosted by John Witherspoon, and that quickly became one of the first things in my weekly diary (along with European footy nights in the Head of Steam or the Fly).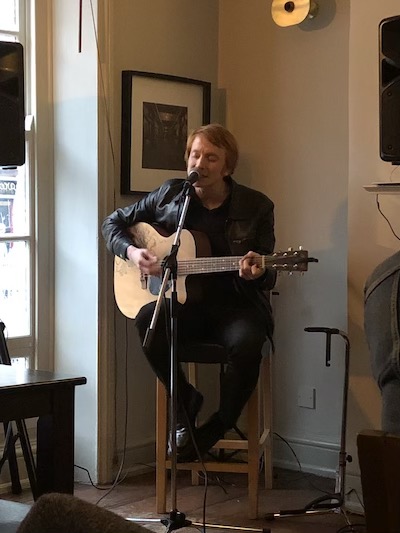 I hadn't been playing my guitar that much in the last year. The whole MS thing was worrying earlier in the year when I couldn't even feel my fingers and wondered at one stage whether I'd ever pick up a guitar again. To go from hardly playing at all to playing in front of people at least twice a month was brilliant.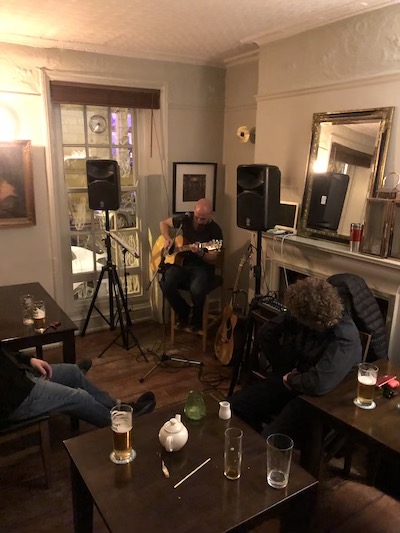 With the demise of the venue I dare say I'll look into playing in other places. But I am certainly going to miss John and the regulars (and irregulars) who played at the Keystone. This last open mic I had plenty of songs to choose from. I thankfully didn't have to follow Ian Prowse again. I played three of my most regular songs: 'Oh My Sweet Carolina', 'You Couldn't Get Arrested' and 'Whiskey in my Whiskey.' I played the latter one for Ben who had requested it the previous week. He was deep in loud conversation with Si and didn't even notice I'd played–let alone notice I'd played his request (albeit a week late).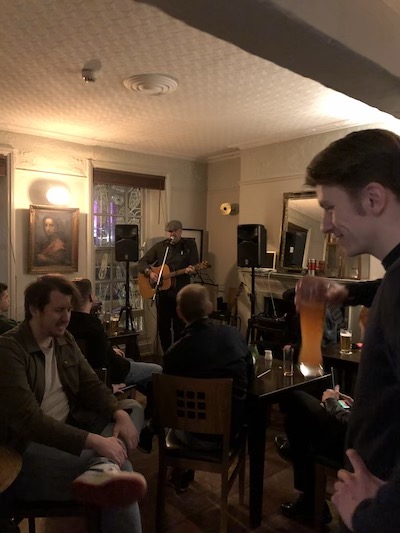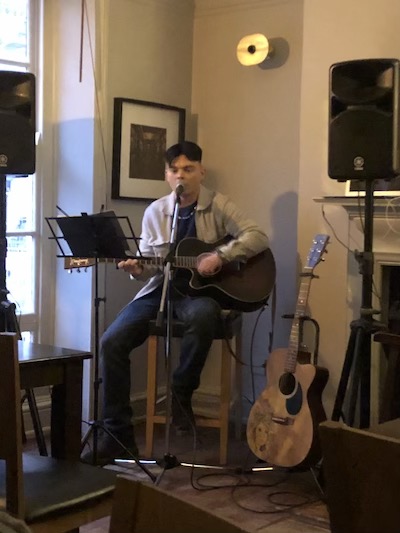 There were lots of chatting with the staff and regulars who were all pretty surprised and depressed about the news. But I was glad I made the effort to go–even though I had to leave early as I was working the next day. Ho hum.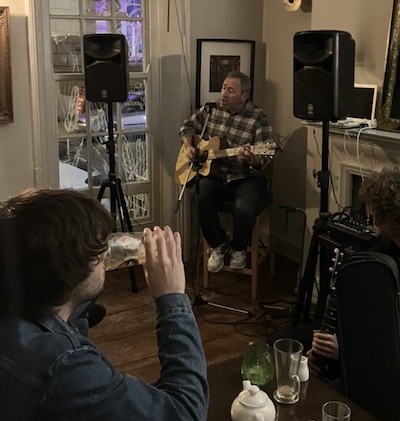 My last strum through a C-F-G ditty for a while I dare say.

Onwards and Upwards.