A Kilo of Beer and The Auld Enemy
Watched the
England v Scotland
match at home last night. Usually with a big game like that there would be a few of us out in town to watch the match. But with the current situation we were of the opinion not to go in as there was too big a risk of getting into town and then not finding anywhere to watch it. The current restrictions mean that all customers have to be seated and it's table service etc. So most pubs were anticipating quite a high demand for the game (let's face it, in normal times they would have been packed - especially on a Friday night) and they therefore operated a system where many, if not all, tables were bookable from earlier in the week. A few had 'some' walk-in availability too. But it's a Friday night and the walk-ins could easily fill up quickly from people coming out of their offices and making a decision on the night to stay out.

I did consider popping into town and going with the flow, then coming back home if I hadn't found at place to watch it by 7:30. But going into town for 2 hours only to come back with 30-40 minutes each way waiting for buses didn't make sense to me. So i was that the England v Scotland match became another victim of the Covid-19 situation for me. At least all the Euro games in the UK are on terrestrial TV - that makes such a difference. That said it was on ITV, not BBC. But beggars can't be choosers.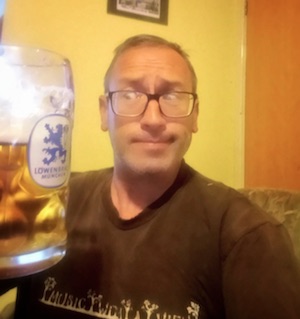 As it transpired a) The Fly were calling out for 'walk-ins' at 7pm, so I could have got a seat to watch it, and b) it was a shite game. I was simultaneously disappointed I hadn't gone into town for the game and happy that I hadn't gone into town for the game. Oh, yeah... it finished 0-0. And the Scots celebrated the 0-0 like Everton would do against Liverpool.

I had a couple of beers at home including a mega (1000ml) can of
Faxe Royal
(5.6%) beer I'd picked up from B&M, which I drank from my dad's old 1 litre German glass. Dad was a Scot and he'd have been up for the match against the Auld Enemy, of course. And on a Friday night he'd have been watching it down 'the club' with his usual posse. Though I suspect my dad never actually drank anything out of this glass. He must have picked it up in one of the trips he had with my mum over to that neck of the woods. He was more likely to drink a pint of mild than two pints of lager. A litre of mild sounds a bit heavy in all respects. Not sure he'd have been too happy about the result (or the game itself). But I suppose being a Scotland fan is like supporting Everton: it's not about winning anything, it's about taking two points of your biggest enemy.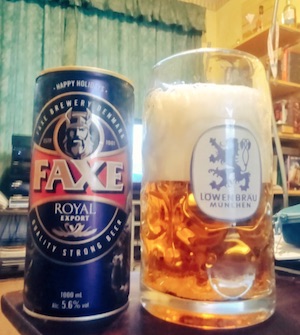 There's been a few good games in the Euros so far, but personally I can't wait for the Premier League and Champion's League to be back. Also I need to do some work on my arms if I'm going to be drinking a kilo of beer again. It's Father's Day today, so maybe I'll drink out of his old glass again; then again I also have his old tankard too - a much more manageable size.