11/02/23 12:37

So how many Social Media accounts do you have? I've got too many to keep on top off at the moment. This is largely down to Mr Musk periodically and all too often setting fire to Twitter. My core social media accounts (once I deleted Facebook a few years ago) have been Twitter and Instagram for my personal general use and for the real ale one (Reale). As Twitter seemed to keep announcing their very public desire to self immolate I registered my accounts for several of the new kids on the block or those who seemed to be positioning to step into the Twitter shaped hole should they succeed in no longer working for their users. o I've got apps and accounts for Mastadon, Hive, Discord, and Telegram. And now I've a Spoutible account too.

I've used Mastadon and Hive sparingly, whilst I have tried to continue with Twitter. It seems daft to use so many to post or search for content - and time is eaten enough as it is. In the last couple of weeks Spoutible, headed by Christopher Bouzy, has arrived and within that sphere I'm there once again with my @zevonesque username. I've only been on it since February 1st of course, so it's very early days. So far I have been on it most days (okay, there's only been 9 days in that time) and I must say it seems to work pretty damn well. I'm not sure how many Brits are on there yet - it seems to be mostly bods from the US. I've not found any of the Flashdogs over there yet. But I've put the flag up for them with a hashtag in my bio. I'm sure if Spoutible does become a success it wont be too long before I see some of them joining in due course.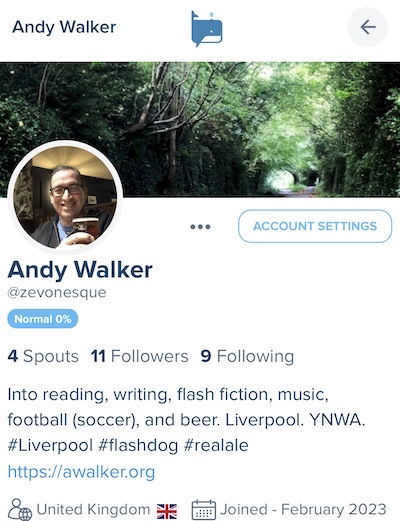 Haven't used it yet to search for flash fiction challenges but I will do soon. I'm busy enough with the weekly Challenges from Miranda (Mid Week Flash Challenge) and Microcosms at the moment anyways, but it would be good to see if there is a seed of a community over there. It's difficult for everyone to know where things are up to with people on or off Twitter and Facebook (I ain't ever going back there). It maybe that a website somewhere would be a better point of contact rather than shouting into the voids and hearing nothing bounce back to us.

There's not much to learn for Spoutible if you've used Twitter you'll be fine with it in no time. In fact the main terms can be summarised as:


Spout
= Tweet

Echo
= Retweet

Making
Waves
= Trending

Spout off
= Send Tweet

And that's about it. If you're over there already give me a
shout
(or spout even). If you're over there later then I look forward to seeing you. Come to the party, people, when you can. It's an open invite for all the good people. That said, I registered my interest early so I could create an account early doors. I'm not sure when they are open to new registrations as they get the gubbins of the system up and running.


07/11/22 11:43
I've loved Twitter for the many years I've been on it. I joined as
Zevonesque
in February 2009 and then created
RealeLiverpool
in December 2013. Incredibly both accounts have somehow accrued over three thousand followers each. Like I say, incredible.

It was through Twitter that I found the various writing challenges that have sprouted up over the years and through these that been involved in things like the Flash Dogs. People who don't use Twitter only hear about it in terms of the poorly curated news (and in the case of our local paper that means using it for all their news rather than having journalists (sadly)). But hearing about stars or politicians who've sent out a Tweet about something in the news is not really what it is about. It is so much more than a news app – or news creator.

And now we are in this strained situation thanks to the strange and rich ego of Musk. I absolutely love the Space-X stuff. Don't care much either way about Tesla. But what is he doing with Twitter as a play thing? Can't he stick to real engineering challenges rather than social engineering?

The $8/month that Musk has expressed as a cost to keep the blue ticks is not relevant to me at the moment. But it is unclear what it will mean in the longer term in relation to what effect it will have in the algorithms: and therefore what will show in my timeline. I want to really just want to see the people I follow (and by extension what they think is worth seeing) rather than adverts and 'news' that Musk and Twitter make me see.

I'm hoping this turbulent few weeks on Twitter proves to be nothing more than a horrible aberration. I can but hope.



Not sure, of course, yet about the open source app
Mastodon
, but have created an account in case it becomes the new place to be. If it becomes so much bigger (and it looks like it will) then it may well become a boss place to hang out. We shall see. If you are over there too you can find me on:


@Zevonesque@mastodonapp.uk


To top off my I.T. day I've also installed '
Ventura'
on to the laptop. Go me!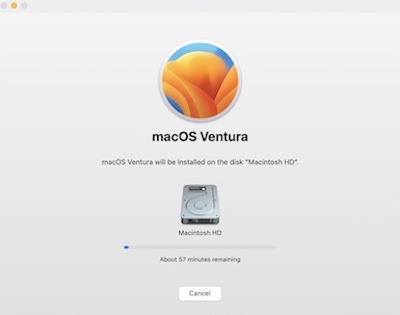 08/05/21 16:49
In these days of multi social media hangouts creating a place where the links to all of them are in one place is a neat idea. I'm not sure how late I am to the
Linktree
party but I've arrived and I'm glad I have. The set up is quick and clean. No messing about. As simple as it should be.

Set it up on Thursday night and put the link in the Bios in my two
Twitter
accounts and my two
Instagram
pages - one each for my personal Zevonesque account and for my Real Ale Liverpool (Realeliverpool) accounts. As well as having links to both sets of Twitter and Instagram it of course has a link to the website (i.e. here) and to the
YouTube
Channel.


Haven't yet linked it to
Goodreads
or anything else and I may well not. Goodreads seems to have become a more problematic place these days. And obviously I'm not on
TikTok
or
Facebook
. These
Linktrees
must be pretty tall trees for some people. Anyway, in short, you can find me more easily than you could before. 'Hurray!' I can hear the cheers from here.

If you've got multiple hangouts on the internet thing then I can thoroughly recommend getting on Linktree and connecting those buttons.

One thing I've noticed on my
YouTube
Channel is that it is predominantly me reading poems at the moment: I'm going to call this my
ReadMeSpeakMe
period. I need to get strumming some new songs to rebalance the channel.