Saturday was a nice day weather-wise, beer-wise and footy-wise. First up I went up to the
Neptune Brewery Tap
in Maghull, for the first time since going on the opening weekend, for a couple of beers with my good mate, Tony. It was Tony's first visit.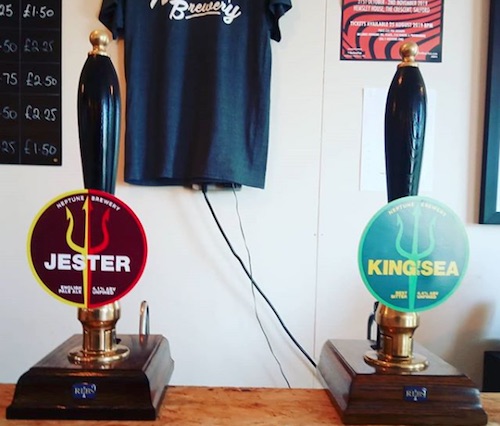 'Jester' and 'King of the Sea' in the Neptune Brewer Tap
Started with a couple of cask ales, which were '
Jester
' and '
King of the Sea
' (they have two cask lines and then the rest in keg) and then I went for their collaboration beer with
Brass Castle
'
Bozza Don't Surf
'. So that's why there's a rare pic of me with a half pint glass. The ale (7.3%) is gorgeous and I thoroughly recommend getting your mitts on some if you see it around.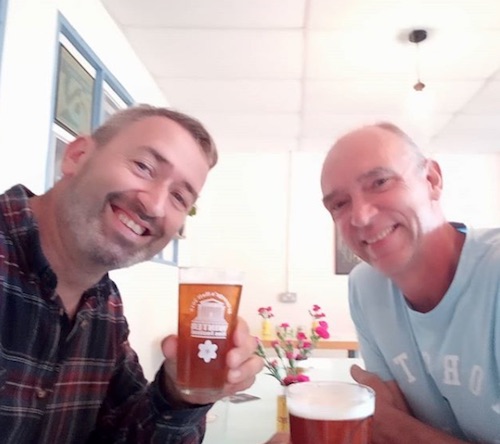 A rare event for me… a half AND it's a KEG! (don't tell anyone)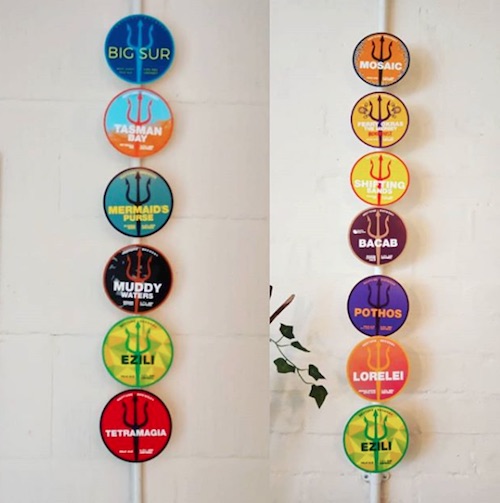 Pump clips for some of the many beers Neptune brew - one of each please…

Merchandise, branding and snacks in the Neptune Brewery Tap
As it was a Bank Holiday weekend they had food on from
The Great British Chip Shop
on the Sunday and Monday - not on the Saturday. Nice to see companies working off each other that way. Les and Julie and the rest of the crew have done a fab job creating the tap and I'm sure it will be a brilliant success. If you are ever in the Maghull area over a weekend you should check if the Tap is open and get your chops around a few of these guys beers. You won't be disappointed. The brewery is at Unit 1, Sefton Lane Industrial Estate, Maghull,
L31 8BX
. Easiest way of getting there is usually just to get the train to Maghull Station and from there get a taxi - Blueline taxis have an office opposite the railway station.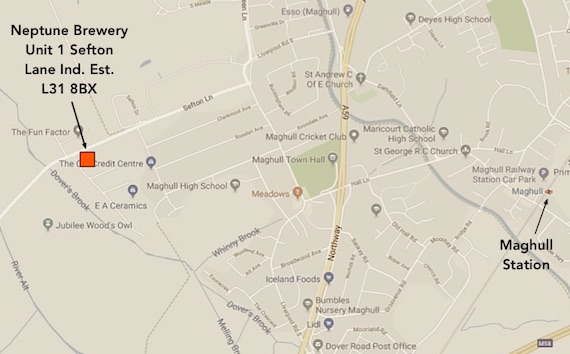 Had a problem waiting for a taxi to return back to Maghull Station (should have booked it earlier: I blame the taste of the beer making us want to stay longer). Julie very kindly volunteered to run us down to the station. A star!
Got the train back to town and went to meet Ste in
Fly in the Loaf
where we watched the Liverpool v Arsenal match. Well, what can I say. Another nice ale or two in the Fly and a fab win from Liverpool (3-1). Happy Days!
Like I say, it was nice weather wise too. But largely it was spent indoors. Enjoyable nonetheless.
If you wanna check out these guys on Twitter they are:
Neptune Brewery - @neptunebrewery
and
neptunebrewery.com
Brass Castle Brewery - @BrassCastleBeerFly in the Loaf - @FlyintheLoaf