On Thursday I returned to the first place I played at an open mic: the Sanctuary. The pub closed around the time of the initial lockdowns and eating & distancing requirements. Since reopening last year it hadn't restarted the open mics. A couple of weeks ago, when I was at the Sofar gig at Leaf, they put their first toe back in the water with it. So I decided to go last week as a return to the place it all began for me with this fun hobby.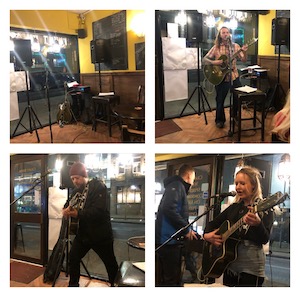 Unlike the earlier OMs this one was held on the ground floor. The old one used to be upstairs usually (occasionally downstairs if there was an event on), but now upstairs there is a restaurant – Momo's for Nepalese scran. There were only four of us who played so I ended up going up a couple of times, playing my usual stuff of course – about eight songs. Not sure how often I'll be playing there again, but it was good at least to revisit the place it all started.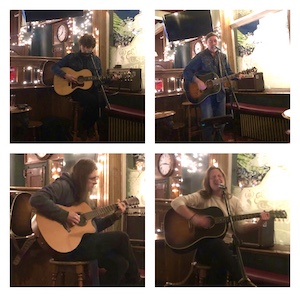 Then on Monday the OM at the Dispensary restarted after a bit of break since before the new year. I was running late and did well to get there for 8pm. The brilliant Ben Whitely was playing as I walked in and I was surprised to find that a couple of people – both newbies – had already played.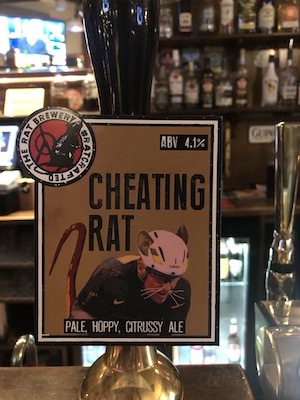 Laurence came up next before I went up. Played four of my usuals. Despite a bit of a sore throat my voice did surprisingly well – for me. Next up was a Polish guy (sorry I didn't catch his name) who was stunningly good (just playing instrumentals with exquisite and ridiculously fast techniques). Muzz was up last, who was also glad to be back again. The Rat Brewery 'Cheating Rat' was lovely and it was nice to have a change from the ubiquitous White Rat or Citra. They are both great beers of course, but a change is as good as a rest.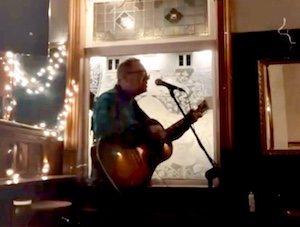 All in all Monday proved to be a very good night. And I'm glad I made the effort and the buses worked for me (mine had been ridiculously late, which meant I could catch it. Others on the bus had been waiting for 30-40 minutes apparently – oh dear).

Onwards & upwards.
A rare week indeed. Three nights of live music. Three. What could be finer? Links to all the acts are at the bottom of the page (or click on the highlighted name to go to their Spotify pages). First up was
Christie
Bratherton, who I'd previously seen at the Sofar gig in October 2021 where she played alongside the Heavy North. She'd put on Instagram that she was playing at the White Lion from 3-5pm on Sunday 22nd Jan and I spotted the post. I got down there around 3 spotted the guitar and gear propped up by the back door. Christie walked past me and I spoke to her to find out what time she was on. Turned out she had been mis-sold her gig as she was covering for someone who couldn't make it and she'd been told the time wrong. Turned out it was 5-7pm. I downed my pint and took the opportunity to go down the road to the West Kirby Tap and then the train for one stop to Hoylake for the Black Toad first before getting back up to the White Lion. Christie was fab, singing on her own at the front of the bar. I got off a little before she finished to catch a train. It had proved to be a lovely afternoon and evening.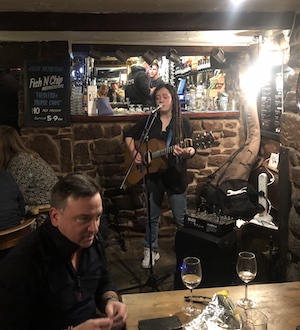 Christie playing at the White Lion
Then on Thursday it was time for the Sofar Sounds gig. For those of you who don't know about it, the gig is £10 a ticket - and the deal is you don't know where the venue is (other than the city centre) until 36 hours before kick-off or who is playing until the actual evening itself. I was made up to find out it was upstairs at Leaf - the last time I was supposed to be there was for the Felice Brothers last year, but unfortunately that coincided with my Covid week.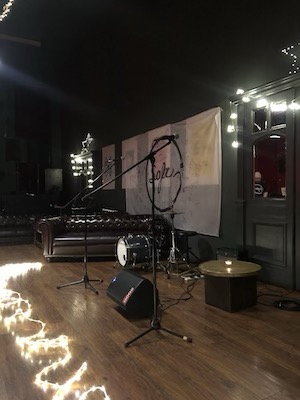 Sofar stage ready at Liverpool Leaf
I went to sit right at the front (where most of the empty seats were anyway). First up was
Mike Ryan
, who informed us he was playing hooky from school before playing a really nice set. He was a thoroughly nice chap too.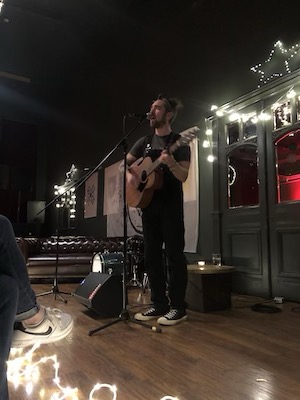 First up Mike Ryan who was skiving of school (and well worth it too)
After the ten minute break for a a beer top-up the next up came up to play after a kind introduction from the host.
Marvin Powell
proved to be a shy chap who was excellent.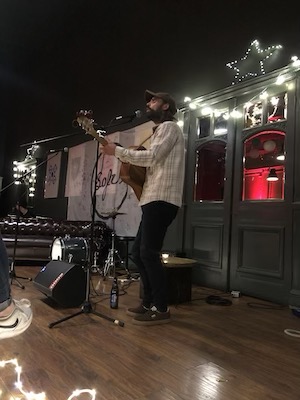 Second up, Marvin Powell. Lovely stuff.
Finally the one group to play was a four piece
Ask Elliot.
They were bloody excellent. All three acts were indeed excellent and well worth looking up on Spotify or wherever you find your music. And, like Christie on Sunday, I'll definitely keep an eye out for a chance to see them again.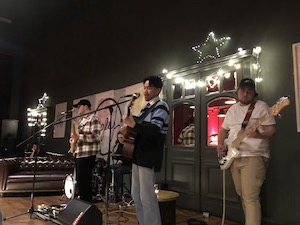 And last but not least, Ask Elliot. Not sure what to ask him, but do.
Then came the highlight for me. Yes, Frank Turner (again) . The gig was down in Wolverhampton in KK's Steel Mill. This gave me an excuse to get down for a few beers in Wolverhampton and Birmingham too. It really was a win-win. Unfortunately I missed the support act (the Lottery Winners) as I'd gone for a curry around the corner, which was a bit of a wait due to it being slightly slow arriving (cos the curry house was so popular). At the venue I got myself a KK's Dark ale which was nice to have in a large venue where you are usually faced with a Carling or a cider of one description or another.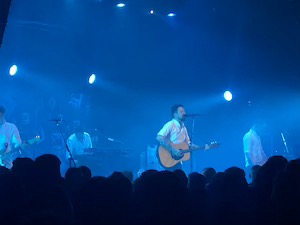 Frank Turner doing what he does so fucking brilliantly with the Sleeping Souls, at KK's Steel Mill, Wolverhampton
Frank
and the Sleeping Souls came on before 9 and played until 10;50 or so - he just cracked on with one brilliant track after another. He's got such an extensive catalogue of songs he could play a different two hour set each night these days. You can't be disappointed if he doesn't play one of your favourites cos he'll play another three of them instead. For me he the best act out there at the moment and he has certainly become my most seen act taking over from Ryan Adams who I'd seen a lot in years gone by. I dare say I'll see him again and probably again in the years ahead. I don't know how he does it day after day. This gig was No.2725 for him and he doesn't half go for it. How does his energy last, let alone his throat?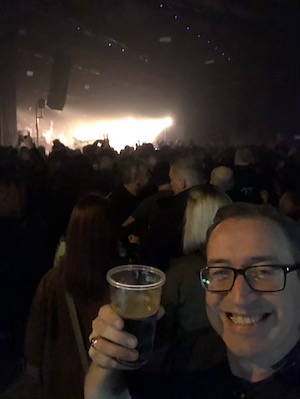 Frank's playing and I'm a happy chappy (with KK's Dark ale).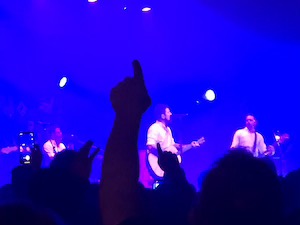 Hell yeah. Frank.
See you later, Frank. Thanks.

–––––––––––––––––––––


Links:
Christie -
Spotify
-
Instagram
-

Mike Ryan
-
Spotify
-
Instagram
-

Marvin Powell
-
Spotify
-
Instagram
-

Ask Elliot
-
Spotify
-
Instagram
-

Frank Turner
-
Spotify
-
Instagram
-


A nice surprise to me last week was the return of the Microcosms flash writing challenge. I didn't notice until Friday though it had been up for six days. So it's only been a week but there have already been two challenges. I've written for both of them. If you haven't seen it before - or need a reminder - it involves three elements which are required for the story. In the first week the elements were: 'Serial Killer - Castle - Sci-Fi'. And this week it was 'C.E.O - Protest - Horror.' You can see that'd be a challenge; especially with only a maximum of 300 words to use in the stories.


One handy option in the way this challenge works is that you can spin the elements to chose select other ones in the event that the chosen ones don't float your boat. I'll generally try and use the ones provided first up; a challenge is a challenge after all,

Anyways get yourself down there and write a story - or two. At the very least it's fun, if sometimes a stretch. Welcome back,
Microcosms
and thanks to those involved in its resurrection.