Pubs. Pubs. Pubs. Closed pubs - outside pubs - inside pubs. God, they are such an integral part of my life. It's not a daily thing or anything like that. And it's not bad ones - these days anyway. No, it's real ale pubs. I suppose many youngsters would call them "old men's pubs". Hell sometimes I do too. Generally though it's just pubs that sell real ale. Ale on hand pulls. So the last year has been a wee bit disappointing on that front.

They've been closed several times over this pandemic year. The last time they were open the rules rather (completely) arbitrarily required you bought a main meal with your drink. Like the virus would go for you if you didn't have a burger, but would avoid you if you did. Ludicrous ill thought out concept. Of course at one point that was partly in conjunction with the "
Eat Out to Help Out
" idea too. I'm sure there were good intentions there somewhere. But maybe not much in the way of thought.

During those strangely open/not really open time I was out every so often. And asking questions of whether the guy or gal serving me thought a) was a plate of chips classed as a "substantial meal" and b) how slowly could I eat them from a legal perspective i.e. could I get in two or three pints with one plate of chips. Nonsense of course. If you watch any "end of the world" dystopia films there's never been a scene in it when people are seeing how little they could eat in order to get a pint in. But hell, it was dystopian.


One step closer to normality. So close but so far.
That ended on the run up to New Year when the pubs were closed for the next lockdown. And here we are over three months later before they could open again. This time the requirement for eating with your drink has been removed. Instead the rule is that you can only drink outside a pub. With April weather that is full on roulette territory. On
April 12th
this limited opening came in, with the next change pencilled in for
May 17th
. At that point the inside of pubs can open, but still with restrictions like the '
rule of six'/two household
thing and such like. The unrestricted opening is lightly HB pencilled in for
June 21st
. Oh my, how good that will be?

As I say, I like pubs and pubs and pubs. It's a social and aesthetic thing. Drinking at home for me doesn't do it. Don't get me wrong I do buy beer regularly. It's just that I'm more inclined to have one or two bottles or cans rather than the pintage I would get to whilst out and about. I've lost weight during this pandemic and that's partly down to work being mad but I mainly down to fewer beers passing my lips and getting to my hips.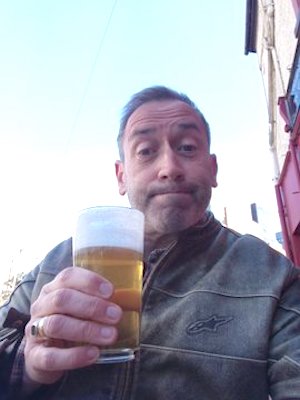 First pint up was an Oakham 'Citra' at the Dizzy
Ale for me is very much a mix of the taste of the stuff, the environment and the people I'm drinking with - including the sometimes fabulous staff (hey, I'm not gonna say they all are). Maybe the ale will get me drunk, or happy - or into whatever mood it wants to get me to - on a particular day, but getting drunk is not the be all and end all for me. I'd rather read a few chapters of a book with a couple of pints in one place, then chat to someone in another place, than get drunk. If I just wanted that I'd be happily drinking cheap plonk or vodka at home and not going for mini pub crawls in town. It would be less hassle too without messing about with buses.

But no, for me, having a pint is about going on a wee pub crawls to take in various beers available in different places and seeing a few people. I'm quite happy whether I meet people I know well or not: happy to do a spot of a people watching with the best of them. Most real ale drinkers I know prefer to visit three or four pubs on a night out rather than go to one. But flexibility is key. After all if the first pub you're in has your favourite beer on and some of your fave people in then there's no need to roll that dice for the next place. Like going to a music festival you've got to enjoy where you're at and not worry about what you're missing.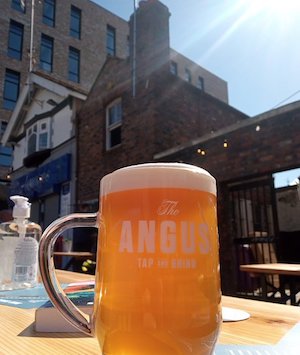 Not so Hard Times at the Coach House with a Neptune 'Mosaic'
Can't wait to get back to doing a few mini crawls.
The Fly, Roscoe Head, Dispensary,
and
Grapes.
Oh yeah! Then there's the
Lion, Rigby's, Denbigh Castle, Excelsior,
and the
Ship.
Or how about
Baltic Fleet, Bridewell, Head of Steam, Hard Times, Belvedere,
and the
Caledonia
. Or how about the… well you get the picture.

We're going to have to wait until June until we can do these properly. The May reopening will be constrained in terms of numbers and therefore the ability to wander between pubs and expecting to get in. I mean the demand for the Grapes... it doesn't bear thinking about.

Right now the reopening this week has allowed pubs with outdoors to give it a go. For city centres this means many pubs can't even try or those that can have severely limited options for customers. In Liverpool many of the best pubs will not be reopening until May.

I made it to a couple on Monday after first getting a rather crucial haircut. First up was a pint of
Oakham '
Citra
' sat outside the
Dispensary
, which had a nice circularity to me. My last pub pint was in the Dizzy between Christmas and New Year where I was rung at 7:30pm in the pub by my GP to be told to go to
A&E
to get an MRI scan; it was not the usual night out. As it happened I wasn't to get an MRI for another couple of months. I'd had to eat a portion of Scouse with my drink that time, this time no food was needed - but a coat was definitely required: the early afternoon sun doesn't get to the outdoor area. Brrrrr.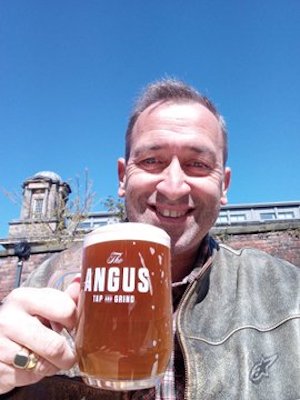 A pint in the sunshine at Hard Times
Second pub up was the
Coach House
. I'd seen the managers working on it on Saturday when I walked into town. I'd sat outside with them in the cold - without a beer. I suppose it was a dry run. It's the third name for the place and like anyone I dare say I'll stick with the original name:
Hard Times & Misery
. In between it was called Dickens and King. They've created a nice seating area outside and I think the capacity out there is more than inside the place. I was one of the first customers and it became busy in no time - but not overly so with the whole rule of six thing at the tables and all that. Had
Neptune
'Mosaic'
on which meant nice options all around - especially as there was sunshine on me too.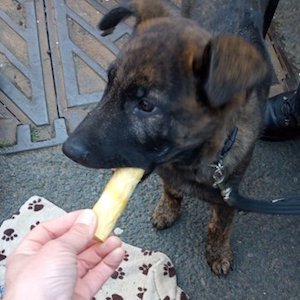 Hotch having bar snacks - even though now they aren't a requirement of entry (beware those sharp teeth)

Met some people I knew and chatted to some I didn't too (and met a puppy I'll see again over the coming years). It was great. But it's not normality yet. It won't be until all the pubs and bars are open and you can get inside without significant restrictions. I can't wait. Though I rather suppose I must. Roll on June 21st -
HB pencil notwithstanding.