06/03/21 13:53 Filed in:
Health
After four days of either being in hospital, or going back for tests, I've got a doctor free day. Yippee! So what's been happening folks?

This week has been a bit of a kicker. After two weeks of numbness and tingling in my legs and feet the only test result I had come in was a low folate in a blood sample last Friday. By Monday I had not been able to speak to my
GP
so did not know whether this was supposed to be the reason for the issues with my legs, or something else completely unconnected. On Tuesday I tried again with the GP, on the phone from 8:30am but didn't get through until 9:30am - of course the doctors were all fully booked up for calls or actual appointments by then. Sometimes calling for a GP appointment can be as exciting and as fruitless as trying to get a festival ticket. The receptionist suggested that I try the eConnect method, where you fill in an online form and they reply by email to your query. Unfortunately when I tried filling in the form it wouldn't let me submit as it said that it said my issue was urgent and I must call
111
(it also does not send the information on to the GP at that point).

On 111 and after twenty minutes or more chatting to them it got to a point where they said they would call me an ambulance. Eek! Meanwhile I had the plumber working on my pipes (not a euphemism). The woman on 111 then told me the waiting time for an ambulance (which I was confident I didn't need) was hours. She suggested getting a neighbour to take me to
A&E
(a neighbour during a pandemic?), and told me not to get a bus (it's just two stops to the hospital).

Needless to say, after the plumber finished with my pipes (still not a euphemism), I packed a wee bag (again not) - just in case I'd have to stay over - and headed up to A&E... by bus.

After a long time looking at me - scratching and not scratching my legs, and taking multiple bloods - it was time to get a
Covid test
. I think she took a piece of my brain out with the sampling. It was the quick test: Negative. After the nurse consulted with a doctor or two it was decided I needed an MRI (which I was supposed to be getting after the Xmas issue and was sure would answer some questions). It couldn't be done until the following day though, so I needed an overnight (if I'd not stayed in I was told they would be unable to put me forward for an MRI for quite a few weeks). As I was straying in I required a second (laboratory) Covid test. so another lump of my brain was pulled out though my nose.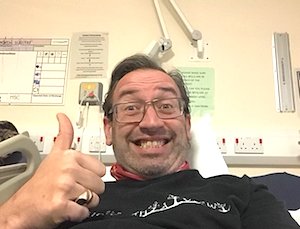 I've found there's wifi (though my phone is dead. REM: take right cable next time)

Oh god, I'm rambling, and only a few hours into my three days in the hospital. At this rate it'd take ages to go through my three days.

Let's rush it out then: on Wednesday evening I was subjected to the horrific experience of an
MRI scan
of my head and then my spine. Loud doesn't come close. I think it was circa 50 minutes of hell. At one point I became worried about the titanium rod in my right arm being at least part steel and therefore getting ripped out of my arm. Scary. And did I say it was loud? It was VERY LOUD!

Because it was late in evening of course I wouldn't get the feedback until Thursday. So it was another night in. I was worried about a brain tumour or something. I mean my legs are doing what I want them to. If I want to move either leg or foot it'll go where I tell it. They just doesn't send the clear feedback on to my brain as to how they feels. Something has cut through a cable and is disrupting clear communication.

I didn't get the MRI results until Thursday afternoon (though before the report came in a doctor tried to mislead me in the morning. I don't now why he came to talk to me before the report was out!? - I'll leave that there though). The neurologist,
Dr Mills
and two of his young colleagues, came to talk with me: it was almost a
Gregory House
four man team.

Long story short, the diagnosis: MS. Or, as I've mistakenly said a couple of times,
M&S
.

They suggested that they could do a
lumbar puncture
(or Spinal Tap if you prefer) the next day if I was up for it. As that could firm up the diagnosis: unfortunately there is no simple 100% test for the disease. It is a combination of clinical diagnosis with probability analysis and fingers to the wind. Or something like that. With the LP they take spinal fluid and can look at what's in it, including viruses, macrobac, and lots of bits & bobs that can act as indicators for MS. In the meantime there was no need to remain in hospital thankfully.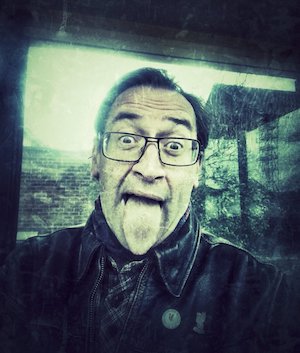 At the bus stop on the way for my LP

So I got home on Thursday evening - so, so nice after two nights in hospital (how does anyone get any sleep there?). Got the call on Friday at 9:30am to come in to the Walton Centre for 11am for the LP. I was in and out in no time. I actually left home at 10:30 and was back having a coffee by 12:30. I'd been a bit nervous about the whole syringe in the back procedure, after seeing far too many bad examples of it on the telly. But the LP was undertaken without me feeling a thing; I've given bloods which have been more painful, and I've never had an issue with bloods (ie. that ain't painful either). The nurse was obviously bloody good at Lumbar Punctures - and the patient was obviously amazing too.

M&S: not good news at all. But ultimately it is better to know than not to know - I wish I could have had the MRI earlier: I mean I don't need to worry about a brain tumour now, do I?

I've got a big learning curve. MS is an odd disease. It is one of those auto immune things where your body attacks itself. The MRI showed various bright points on my spine and in my brain where there was inflammation. These are spots where the nerves are being attacked and stripped of some of the myelin coating. It is these damaged nerves that stop doing their job and sending my brain bits of handy information (like is it hot or cold, hard or soft, sharp or smooth?). It's pretty difficult to know how things will progress and what treatments can work for different aspects of it. I mean once this episode is over and I'm dancing again (ok, not dancing) it could be months, or longer still, until a following flare up. And next time it may not be my legs. It could also be very soon. It could be something and nothing, or something worser. Basically the way it impacts seems totally random.

I'm quite ancient for the diagnosis: normally it first shows up in people between the age of 20 and 40. Maybe I've had it for decades and it hasn't done anything to me until now? Maybe I've been lucky in that respect. Of all weeks, what a week to get the MS diagnosis. Yup, March is MS Awareness Month. Well I guess I'm aware now.

The crazy thing is I actually feel very well - and long may that continue. It's going to be a case of taking each day as it comes and seeing what M&S has in store for me. This is not just numbness, it's M&S numbness. This is not just freaky, it's M&S freaky. For now though I have to wait a couple of weeks until I hear back from Dr Mills on the findings from the LP. The Walton Centre have already been in touch to say their MS nurses are there for me if I need to talk to them at all. It was nice and reassuring to hear from them without me calling them.

Anyway, onwards and upwards. And I really can't wait for the first real ale pub crawl of 2021.