01/04/22 14:52
Played at the open mics in the Keystone and Angus over the last couple of weeks. Great to carry on with it. But I do wonder whether I should do fewer and in the intervening weeks practice more - and maybe write some songs too. We shall see. It'll be a hard drug to give up.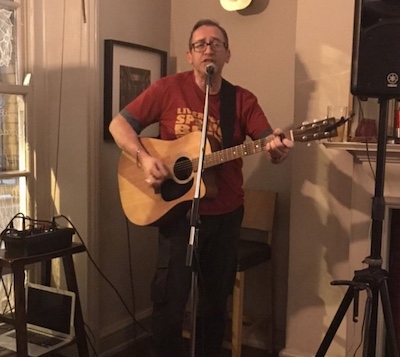 Strumming' at the Keystone a couple of weeks ago.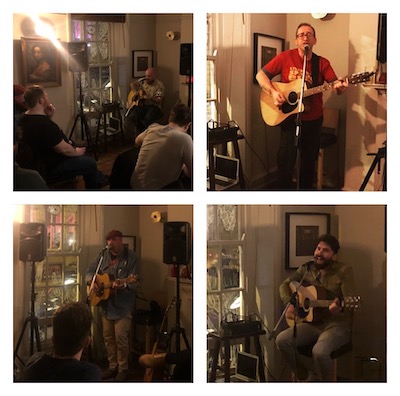 Good to see Barry playing for the first time and the return of Sam Lee too. A nice evening all round.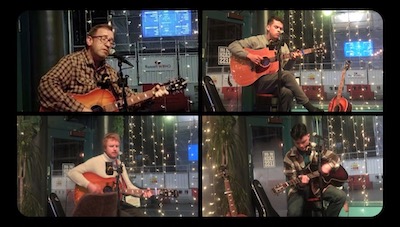 Cold weather on Wednesday night meant a smaller group of players than usual Meant the players who did turn up did a lot more than the usual three or four songs.I ended up playing eight songs. Eek!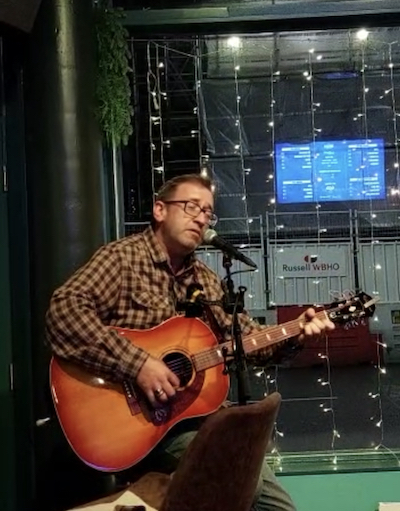 One of my favourite pics of me playing - the Angus.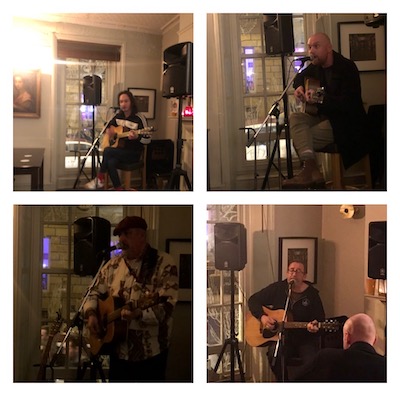 Another fab open mic at the Keystone

13/12/21 14:57
After missing
John Witherspoon
's open mic at the
Keystone
the week before I did make it last week again for my third appearance out of the four they've had. It was upstairs again and was very well attended with regulars from the previous weeks. I was second up thankfully and played three of my usual -
Heart Breaks Like the Dawn
(C Prophet),
Oh My Sweet Carolina
(R Adams), and
Splendid Isolation
(Zevon) - and unlike the previous time I did mess any of them up. Yippee! In fact it felt to me like it was the best I'd played them; at least three songs together anyway. Not saying it definitely was, but it felt all right to me nothwithstanding what it sounded like to everyone.

All the performers were fab - many doing their own songs - and the mood was great again. It's definitely becoming a week highlight.


The Keystone had my favourite tipple on too -
Jaipur
from Thornbridge - so it was a doubly good night all around.

Won't make it next week as Liverpool are on the box (on a Thursday in the Premier League!) against Newcastle so I dare say I'll be in the Fly or Head of Steam watching that. Hopefully we'll beat them well to make up for missing the open mic. Don't know if there will be one the following week with it being so close to Xmas then (Dec 23rd) but if it is then I intend to be there.

Hopefully next year I'll get a few songs written and perform them here. Could happen.