12/07/21 21:23
Bishop's Castle '21


What a busy week. Started of doing stuff down at me dad's old house. Then there was the semifinal game on Wednesday, which I watched in the Head of Steam in Liverpool with Ste and Toe. This was followed on Thursday by an epic - and much looked forward to - day at
Top Rope Brewery
watching the brilliant
Frank Turner
gig with my Twitter/Flash Dog buddy, Sal (will report that in a separate blog piece). And to almost top it off it was the annual pilgrimage to Bishop's Castle on the weekend that would normally be the home of the annual Real Ale Trail. The camping in Foxholes campsite at BC on Friday and Saturday night was then to be followed by a return to Liverpool - and back out to the
Head of Steam
- to watch the Euro Final with many of the usual crew: yes, we did get six who managed to make it on the same day at the same time. Miracles do happen even after a tiring few days.

Didn't leave Liverpool on Friday until almost one and the roads turned out to be a bit of a nightmare with roadworks aplenty - and several accidents as far as I could tell (four ambulances passed me at one point). But I got to BC before 3:30pm, so not too bad in the grand scheme of things I guess - about twenty five minutes longer than it should be.


Bishop's Castle being Bishop's Castle and the last of Steve's pants

All me buddies were already there, either with their tents up or working on them. I ended up doing a pretty rare thing: I sat down with some of them and had a beer BEFORE putting my tent up. A most unusual occasion. It was perfect start with it being dry but the ground softish. I didn't even require my mallet (which this time I remembered to bring with me). The tent went up pretty quickly and once Carl had turned up on his motorbike (his tent already kindly erected for him) then everyone was there.

We listened to some tunes and headed down to BC in piecemeal fashion. We weren't sure what the situation would be in the village. There was obviously not going to be the festival due to the restrictions and the inherent doubts about things coming up to this month. Last year as we came out of one of the lockdowns only two pubs were open on the same weekend: The Three Tuns and The Castle, and both were trying to get to grips with what the H&S rules were at the time.

This year all the pubs were open. Of course it was still constrained by the current Covid-19 rules. There's still the scanning in or writing out your contact details at each pub, the six per table rule and the table service. There was no festival. Some pubs had three or four beers to choose from - as opposed to the usual festival of choice. One pub just had the one beer on. And of course there was no music. On Friday we managed a pint or two in each of the
Three Tuns, The Vaults
and
The Six Bells.


There were twelve of us there on the Friday and eleven by the Saturday - due to one of the lads having a ticket for the Men's Final at Wimbledon. Not sure whether that's lucky or unlucky; depends how much of a tennis fan you are I suppose. With the six person rule we couldn't all sit together which meant the get together in the pubs was not quite the same; and the possibility of flitting between groups was limited. But at least we had more options than last year AND it remained dry during the hours we were out. There was some rain over the two days but it thankfully relented to just appear while we were in our tents in the early hours.

A lot fewer photos were taken than in the usual years as the socialising was more constrained. And we got together more back at the campsite than in the village. We had tunes playing each evening and got some scran down - including an epic chilli provided by the hostess with the mostest (that'd be Jeanette). It had to be calm in terms of spice as Steve doesn't do hot chilli. But it was tasty nonetheless - and needed. I managed to snaffle a second portion a day later. Yes, two of us had the cast iron stomachs to deal with three day old chilli without refrigeration.

Some of the guys were a little lost without the usual pilgrimage to the chip shop at the top of the village. The owners were apparently away for a week or so for a wedding apparently. So the usual fish or sausage & chips was swapped for a Chinese - not far away down the road. I never made it to the Chinese and can't say how good it was, but there didn't appear to be any complaints.


Cool day in Bishop's Castle

The morning butties were provided by the
Hungry Fox
within the campsite. The bacon & egg butties are a lovely start to the day.

The drinking as far as I could tell - and certainly from my perspective - was a lot less extensive than usual. You are not drinking with the same kind of group or whilst watching bands, and you are waiting for everyone on the table to be ready before putting in an order. The result was a pretty sedate affair compared to some years (especially in The Vaults).

It wasn't as dynamic by necessity in the village. Around the fire pit and stereo at the end of the day there was some more relaxed fun and a little wobbliness from certain people - and even the apparently now annual
Burning of The Shorts
: last year it was Tony, this year it was Steve's turn. Despite some unsteadiness and an incident with Dexter the Dog's sharp incisors there was nothing that quite necessitated A&E, which is always a bonus. There were some surprising moves on to shorts in the form of whisky (
Haig Club
and
Glenlivet
) no names, no pack drill: don't worry Jeanette I wont tell anyone about you two timing gin with a night on the whisky. And separately a bottle of rum also seemed to evaporate on Saturday night - despite no one admitting drinking it.


At the end - The BC21 Team

Sunday was dry again when we got up. There was a quiet, orderly start to the day: just a butty and tents down then an early dart to get back home to catch the football. Before that Jeanette suggested we had a team photo. It was a good call. We normally have one at the start of the weekend down in the
Castle
or the
Three Tuns
but that was impractical this year. So this year's team photo was a more raggedy affair as an early morning "After" as supposed to a lunchtime "Before". But it is good to have the photos to look back on. For the years ahead when we can't remember who was there and who wasn't as much as anything else.

Everyone got back in one piece. And six of us got back into Liverpool and the
Head of Steam
in plenty of time for the football. We had a good evening there. We shared a couple of pizzas just before the match. Maybe we should have picked something a little less Italian. Sorry.

In summary, it was a busy week topped off by the as usual excellent
Annual Bishop's Castle Bash
. It was a lovely and most welcome affair. Roll on next year. Hopefully by then we may even be able to go into a pub and buy a pint at the bar. How mad would that be!?
30/06/21 14:27
It's A Holiday, Not A Bloody Staycation


There have been so many bad words and terms coined over this last 18 months or so of this pandemic - and I can probably complain noisily about many of them. But the worst of them all is that foul stench of an idea called: '
Staycation
.' For one slightly innocuous word it has so many slanted ideas crammed into it.

In a world full of The Entitled who feel the world owes them everything and the whole Pandemic is aimed at spoiling their day to day life it seems the word has been coined for them - the very idea of a staycation putting people out makes me want to scream. It is not a staycation. If you are going away for a few days in the UK you are on holiday. If you are sat at home watching Netflix and ordering food via Uber Eats then that may be termed a staycation - if you must - but if you are on a trip down to Cornwall, across to East Anglia, on a city break in London, or walking up hills in Snowdonia or the Western Highlands… It's a fucking holiday. The fact you didn't fly anywhere doesn't make it anything less than that.

Growing up in the 70s and 80s my holidays, like so many of the people around me, were with my family in places as near flung as the Llyn Peninsula in North Wales, then down to such 'exotic' locations as Devon and Cornwall. We had epic trips to caravans and bungalows in Cricceith, Abersoch, and Morfa Nefyn and stays in guest houses in Ilfracombe and Torquay in Devon, and house stays near Padstow in Cornwall. All these holidays are indelibly marked in my head: and all of us who went on the trips. There was a week here, or two weeks there. The weather did what it chose to. The places we went while on these trips were variously brilliant, boring or average. There were nice meals, average meals, ice creams, ciders, sunburn and accidents. In short: they were holidays. We were away from home - we weren't at school and we weren't at work. They were holidays - plain and simple - not fucking staycations. Of course they weren't.

So if you can all do one good thing for the rest of your life… if you are away from home on a break - and have not been abducted - just say you are on holiday. A holiday be it in Algarve, the Caribbean, on Route 66 (I know: it no longer exists), or in a tent on a wet peninsula in some lonely British extreme - or within ten miles of your house or beside the M62 - it is a fucking holiday.

Never utter that word again. You know which one.
11/06/21 10:43
Hawes and Semer Walk Walk


A couple of weeks ago a suggestion was made to go camping somewhere. As per usual there's a fair group of us going to Bishop's Castle in early July (usually the week of the Real Ale Festival). But the idea of going away to the countryside for two nights was an attractive one. After a little discussion we settled for a site at a farm on the edge of Hawes (Gayle).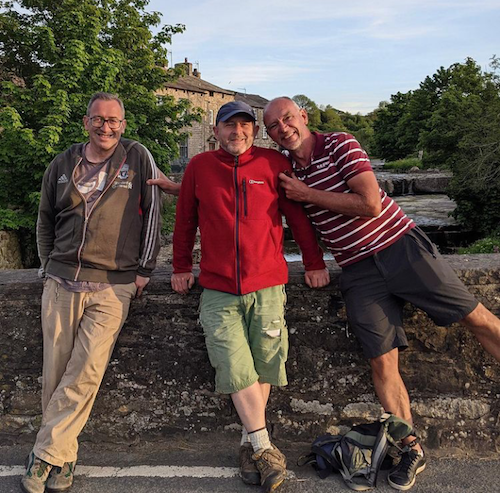 Four of us went up in two separate vehicles around Tuesday lunchtime. We all arrived within a few minutes of each at around 2pm. The forecast for the the two days was grey but no rain. But there was more than enough blue sky and the sun was pretty damn warm. We'd have taken grey of course, as long as it's not wet when you're putting up the tent we're happy.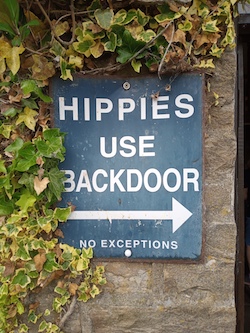 It was a simple site. Just a small undulating field next to the farm entrance with a little footbridge to access it. So unlike Bishop's Castle there's no rucking up and planting your tent right next to your vehicle. The toilet block/shower was a one person only affair - with one female and one male. The water was hot. Decent enough. At £7 a night it was a bargain. It was just ten minutes or so to walk into the town of Hawes, which has several good pubs, and shops and a decent chippy. Between Hawes and Gayle (which to all intents could be considered the same town) is the Wensleydale Creamery, where the spirit of Wallace & Gromit permanently resides.


After pitching our tents up I barely had time to pour my traditional tent erection beer before we left on a walk over the other side of town, across the river and up to Hardraw for a pint or four in the Green Dragon. Other than Tony continually declaring he knew the way, but constantly proving otherwise, it was an uneventful but lovely walk in the sunshine with much of the walk on footpaths through farmland with sheep, cattle, and even free range hens.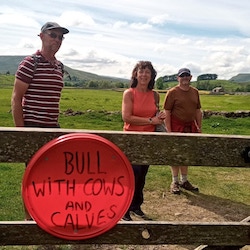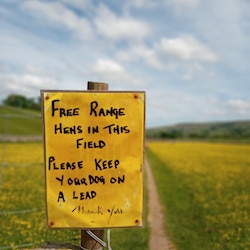 The Green Dragon was lovely. We started in the back garden when the sun was half in us and we were in constant conversations with a local robin redbreast along with his juvenile compadre and several inquisitive sparrows. We moved to a table outside the front door, by the Hippies Use The Backdoor sign as the sun disappeared from the back. My drink of choice was predominantly 'Semer Water' from Wensleydale Brewery. We would have all liked a few more drinks but were conscious of the 45 minute walk back before eating: Jeanette had kindly sorted out a chilli the day before. We got back all happy from the beer and the pretty much constant sunshine. Whoever had posted the weather forecast was a fraud! But in a good way.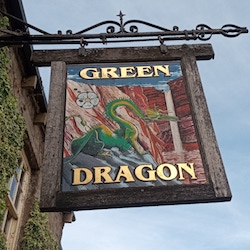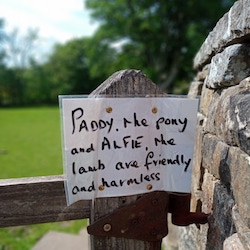 The chilli was lovely, though it had needed to be tamed for Stevie, who struggles to deal with spices. But it was good anyway. A couple of beers whilst chatting and listening to music via Spotify (yes, there was phone signal in this part of the Dales) made it a really nice night.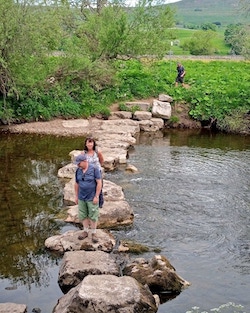 We hadn't made any plans in advance of the trip (unless Jeanette making a chilli counts as planning). So it was the following morning before we decided on where to go. In the end we drove a few miles to the next town of Bainbridge and parked up there before walking up north a little to Askrigg, it was virtually all footpaths rather than roads - which is of course the plan. We stopped in Askrigg for a coffee (and the other three had scones) in a cafe called Bake Well. After recharging our batteries there we turned around south and headed back across the river, passing over large stepping stones on the River Ure - the stones were marked on the footpath signs as a bridge, which is questionable. The water was crystal clear and seemed to be running slowly and relatively low. I wondered how much rain it takes to cover the stones or at least make them more slippy.

Walking up past a farm we crossed the road to head for a row of trees. passing through a field of sheep: as we were doing almost constantly for our time here. There wasn't really a clear path marked through the field and we simply headed up to the far corner of the field in a diagonal trajectory, where we could eventually see a gate through the stone wall. The other thing we saw was a large group of bullocks all crowded together. They seemed to stare at us for a while, then began to walk towards us as we continued on our path. And then we noticed they were speeding up to a trot then a canter (or whatever the bullock equivalent of cantering is). Having just had a conversation earlier in the morning when we'd gone through a field of cows and a bull about how it wasn't uncommon for people to get killed by cows crowding in on them, the view of a crowd of bullocks beginning to run after us was not a sight we wanted to see. I am not ashamed at all of beginning to run a little myself (as did Jeanette) with the main thought in my mind being I didn't need to be the first away from them, I just needed to be the last. It was a moment of fear and hilarity. The bullocks ran after the four of us, whilst Tony shouted 'Don't Run!' at us: knowing how many times Tony has ended up in hospitals around the world after various incidents I was not minded to take on the shouted advice as gospel.

Long story short: the bullocks sped up as they bounded towards us and then as they ran down a little slope they suddenly veered right and away from us. I can only guess what caused them to do this. I'm thinking there was a particularly vicious sheep in the corner we were getting to. Whatever it was it was a relief.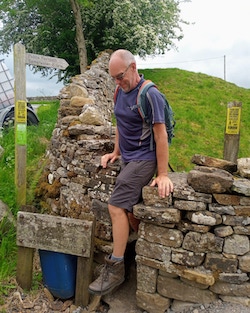 Hey, you don't need to know everything do you? We climbed out through the gate, up a scree/dry water bed to beyond the tree line before taking the flat path west back towards Bainbridge. There were no more incidents with animals. The biggest danger as in fact the walls, or more precisely the narrow gaps in them. These 'squeeze stiles' were dangerous. Generally the safest way was to take your bag off and try and push one leg through at a time. It was impossible to turn your foot once you'd started through, which was dangerous if you'd picked a less than ideal way through: you often wouldn't know you'd selected the wrong foot forward until you were half way through and then faced with either a trip hazard or a big drop on the other side. In theory the squeeze stiles are designed to stop livestock (other than bullocks) from getting from one field to another. In reality they must cause a lot of injuries to people too. We were lucky that it was dry, as slipping when half way through a stile could be a disaster. I only bashed one knee once, and got my foot a bit stuck once too. But there but for the grace of god and all that. It must also be a severe problem for people of the larger persuasion - if you were to start a keep fit regime by going walking in an area full of livestock and stonewalls... beware the issue of stiles.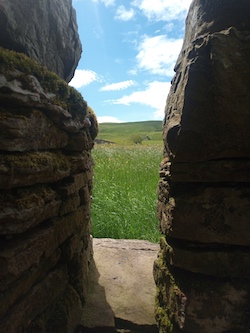 We walked downhill back toward Bainbridge for a short while before hanging left through a particularly narrow stile. We all got through it - eventually - before heading up hill. We were now on the path toward Semer Water (we'd been drinking the beer the day before at the Green Dragon after all). We were not beside the river to begin with as the path follows the top of the hill above it and there is no access along the river. Steve manfully managed it with only a couple of stops as he is only really getting into walking a bit now and this is mostly on the flat; truth be told I was happy he stopped too (I know Tony would happily just plough on otherwise). Tony declared he had qualified as a Team Leader for outdoor pursuits back in the day. But given he'd volunteered that he had THREE maps of the area with him, but had left each and every one back at the campsite I think he may need to resit whatever non-examination was involved to class him as a Leader. Luckily I'd brought my map with me. There were enough roads and landmarks around to not require a compass; it was not orienteering, just basic map reading. We didn't got lost for even a few metres (although there was a small panic around the whole bullock 'almost' incident).

Once at the top it was downhill all the way towards Semer. Steve was a little alarmed when I pointed out we had to do the same walk in reverse to get back to the car. Team Leader was disbelieving and wanted to take another route. There wasn't one without largely walking along roads, which to me kind of defeats the object of walking in the countryside. We got to the lake, had a brief rest and then walked back. Steve managed the slope even better than on the way and it went off without incident. It had got a little cloudy, but never threatened rain. In any case the clouds, together with a nice breeze, took the edge of the sun. The weather forecast had proclaimed it was going to be grey for three days solid. As it was we each caught the sun a lot over these first two days.

Back in Bainbridge it was a Wensleydale and Ham baguette with a coffee at the Corn Mill cafe (which TL declared was known as Mrs Miggins). I know; a long walk and not a pub to end it. Who'd have thunk it?

The afternoon ended up at the campsite with a race to see who could post their photos on Instagram and (in my case) Twitter first. The TL went for a sleep in his tent - and everyone knows that the one who snoozes loses.

The night finally ended in the pub (The Fountain) after a visit to an excellent chip shop in Hawes. A few pints of Buttertubs capped a lovely day. At the campsite we quickly decamped back to our tents for a relatively early night to see how we could sleep after a few of us hadn't got much sleep on the Tuesday night.

The final day was a short one. Breakfast was a sausage and bacon, cooked and sorted by TL and Jeanette, and a cup of coffee. The local sausages were lovely. The only plan for the day was to go to the Wensleydale Creamery to pick up some cheese and then go home. We each bought a lot of cheese: both Wallace and Gromit would have been proud and jealous. Then we got off.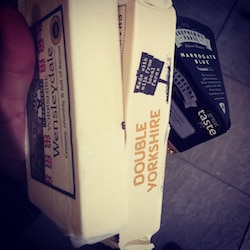 I was travelling on my tod and had decided I really had to get over to Dent to record myself reading the poem which was this week's ReadMeSpeakMe. It needed to be uploaded by Friday and I thought it would be quite cool to read it in the very car park we'd ended up in with the infamous caravanette. See the last blog...