26/10/21 22:13
Well I got and changed the inner tube. Must have been the first time I have done anything like that since I was a teenager. Went easily enough. Though I dare say it will be harder with the back wheel when I need to do that one.

Rode ZevonTwo a couple of times last week and as suspected the gears were not working. I could change to a couple of low gears only. I was stuck on the smallest chainring so found myself pedalling hard with little effect ie it wasn't hard going but I couldn't get any speed up, and going downhill I could not pedal fast enough to keep up with the wheels. So last weekend I took the bike to get the gears sorted. I took it to Parker's Cycles in Burscough on a recommendation. Not near to me at all, but it's best to go from recommendations when it's for things you know nothing about! In any case it was a few doors down from two pubs that I could check out when I left it there.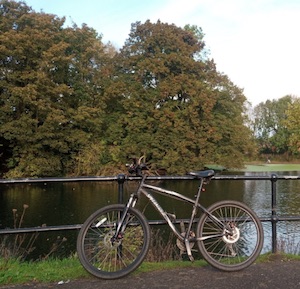 ZevonTwo in Walton Hall Park
Had a nice enough pint in the Hop Vine after leaving my bike with Barry, then went on to the Thirsty Duck and had a lovely pint of Ossett Silver King. Ormskirk afterwards was very disappointing. For a big student town it is mad that it doesn't have more ale options. Still I had a couple of nice jars in Tap Room No.12 before heading back into Liverpool.

On Saturday I didn't get a call until it was too late to get to Burscough unless I'd already been at Liverpool Central so I couldn't pick her up until Monday. The gears were sorted anyway. Cosmetically the covers are missing on the gear selections on the handlebars but there is nothing to say that the shouldn't work. No idea how they've ended up both missing – just tiny bits of plastic. But both? One of the gear cables (the one for the front crankset) had been in a perplexing situation in the bike. It apparently went back on itself somehow and was not simply seized or rusted. But whatever had been wrong with it it would have needed to be dealt with.


Me & My Girl in Walton Hall Park

I got the train back to Liverpool and took Zev2 home with just a two mile ride from Orrell Park so didn't get to go through all the gears. In any case I don't think my legs could yet go through the gears anyways! Today I went out for a 4.5 mile or so ride and took it through a few gears and at least got it onto the second wheel of the crankset (sorry I don't know the correct terms yet). I'll know more tomorrow about how well it is now when I go out on a familiar 5.75 mile trip on the Leeds–Liverpool Canal towpath. Shame the weather forecast at the moment isn't great for that. The bike anyway should be better for me one way or another. Incidentally I've definitely been getting fitter over just this first six weeks. Think I may need to add another hole in my belt already!
15/10/21 17:09
About five weeks ago or so I started riding a bike again for the first time in over thirty years. It's been fine really. And I can definitely feel a fitness benefit in just four weeks – the small hill (well bridge) that I went over each day is now easier than it was (I don't think the bridge has been lowered).

The bike I've been riding is an old BSA, which had been my dad's – five gears and very basic (and not great brakes). Anyway last week my friend said I could have his old bike which he doesn't use (he has another one of the same brand I think). It's a lovely looking bike and after a few days I thought why not. I made the mistake of saying it out loud though. I think my current bike – aka
ZevonOne
– overheard me. And while she understood, she had to show some degree of hurt. So it was than on my last scheduled ride on her before picking up my new buddy (
ZevonTwo
, of course) she presented me with a flat tire on a six mile ride back to my house. But, to be fair, she was good to me. The flat could have come at a much worse place over the six miles but she decided to make her point to me just a few hundred metres from home rather than a few hundred metres from the start. Thank you, ZevonOne. It has been a quite short but interesting journey with you.

The next day I picked up ZevonTwo from my mate – and it also had a flat tyre. It has been sat in a garage for a few years unused. I've taken the wheel off and tyre too – I found the inner tube had an awful small split just by the valve – and I'm now awaiting a delivery of a new inner tube before I can get out and ride ZevTwo. It's got many, many more gears but I think possibly only half work at the moment. I suspect ZevTwo may need a service of some sort. But even with half the gears working it will still have double what I had with One. The build of the bike will be better too. I'm looking forward to getting out on it (even as the darkness of winter approaches).

Will have to report back on her once I've got out on it and seen how it goes.


The Queen is Dead, Long Live the Queen.
17/09/21 12:34
A Bike


One of the items I picked up from my parents house was my dad's old bike. It's nothing special it's a BSA
'Westcoast'
if it means anything to you. But it's not called Westcoast any more it is now officially ZevonOne. It has straight handlebars rather than road racing type which is better for me from a riding position perspective, as I'm not going to be doing anything for speed, and It has five speed gears.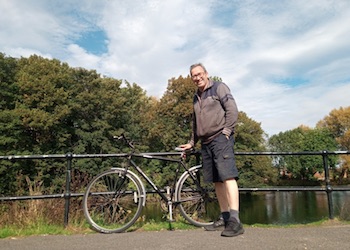 First daylight ride on ZevonOne
I bought a set of lights, a pump and a lock; and yesterday I got the chain back on and oiled it. Sure it needs a bit a clean and more oil on the gears next, but it worked fine. The brakes are okay but not brilliant. Probably due to the cables not being moved much for many years as dad hadn't used if for a few years.

I'll have to get a
hi-vis
belt or sash or some such next; I am not intending to get much (any) in the way of the cycling clothing – at least at the moment. I suppose I'll have a think about a helmet.

Last night at 11pm – after watching '
Help
' (a great drama featuring the wonderful Stephen Graham & Jodie Comer on C4) – I went out for my first ride on a bicycle for something like thirty years. Only went on a circular route of 2.85 miles. It took me a bit under 22 minutes; around 7.8 mph i.e. not fast.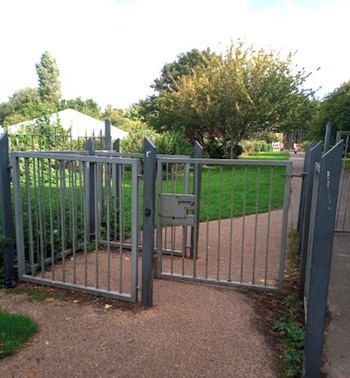 Pain in the neck gates at park
This morning I went out and rode on the route I've been walking previously around Walton Hall Park via the Loop Line. The main things I've noticed are that the legs get pretty tired, pretty damn quickly compared to walking. And my god, even short slopes were a killer. The movement of the legs is very different of course to walking and it is exercising them in a different way. The gates around the park are a damn pain to deal with too. Anyway it'll take a few weeks I'm sure for these legs to get used to this new thing.


Steps


Noticed of course that the exercise doesn't get picked up by watch, which means I'll have to turn the rides into steps by some factor or other. There's no clear cut way of doing it. I found several way of doing it on a writer's website (
link here
) and am going to go for the lower one initially: namely, 130 steps per minute for a low intensity ride. But initially I'll lower it further as I'm going to be damn slow to start with. They have 'easy pace' as ten miles an hour and on my first two outings I've been closer to 8mph. So for the sake of argument let's say 110 steps/min for now and I'll up it to 130/min once I've got up to 10mph (assuming I ever do).


Once at Lake Toba


I say that it's been thirty years since I've been on a bike and that's almost true. But I did hire a bike on one day when I was in Indonesia at the stunning Lake Toba. The lack of practice and the hilly nature meant I didn't really cycle
per se
though – I basically walked up the slopes and then freewheeled down them. Not really cycling at all then.


Going forward


Getting on the bike this morning I found the front tire had gone down since last night. So it seems I'll have to get new inner tubes next – along with the
hi-vis
. It'll be first time changing a tyre for over thirty years too then. The other thing is that there are areas of rust, most obviously the handlebars. So at some point I'll have to de-rust and paint the affected areas. It's all a learning curve.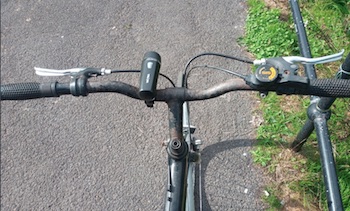 The handlebars (and indeed the bike) needs some TLC/paint work.

Assuming I record the bike rides on
Runkeeper
(which doesn't just do running, despite the name), then I can convert the cycling to steps and keep up with monitoring overall exercise in a consistent form.

Onwards and along wards.