01/04/23 10:35
Still keeping at it with the weekly flash (<300 word) challenge from Microcosms. This week's three elements were: frog/ castle/ sci-fi. I enjoyed writing it (it ends up with a man eating frog - you can check it out along with the other entries at
Microcosms
) and later in the week discussed the challenge with a colleague. He was intrigued by the idea and said it would make a good cartoon short. It must have got him thinking anyway as he decided it would be a good way to see what Adobe Firefly - an AI illustrator - would produce for it based on a few relevant words. He fed them into the computer and instantaneously it came up with a range of image options. They were all really good. And in fact we both liked the first one it came up with (below).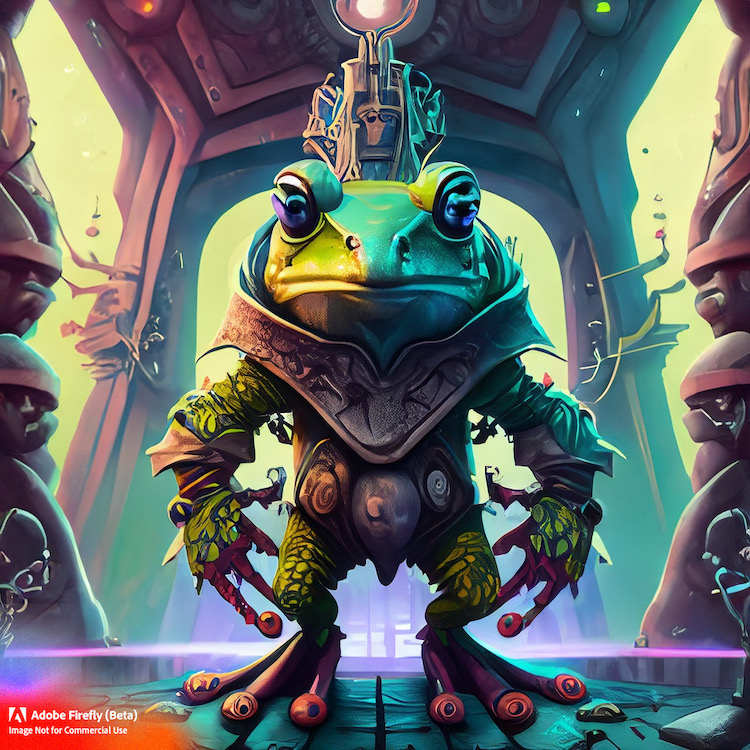 Firefly is a Beta at the moment and, looking at what it can produce already, I am gobsmacked at how good the images it comes up with based on word prompts. It is frighteningly good at it. And I can't not see it taking a lot of hours out for producing art work for all sorts (book covers, comics, posters and the like in particular). Of course taking hours out of producing something also takes the work away from people too. Get ChatGPT & Firefly together (or some of the other ones out there) and they could write and illustrate a story for you on a topic you'd like in no time. It is both an impressive and scary bomb of capabilities. Will we want to read stories written by apps, look at pictures not generated by people. Perhaps there will be an AI reading app next. That can read the stories to itself so you wont have to do. If they write, illustrate and read them all then what will we do? What will we be for? What will we be?

It is scary to consider where it may go in the end (let alone when combined with robots too). The Borg from Star Trek may be seen as a jovial alternative to the future we actually have around the corner. It will be interesting to see. But don't believe what you read about it; it may have been written not on an iPad, but by an iPad. Perhaps this was?

Soon the only thing we'll find ourselves believing in is the weather when we see it for ourselves. That is until we're all chipped then even our own live experiences may be false too.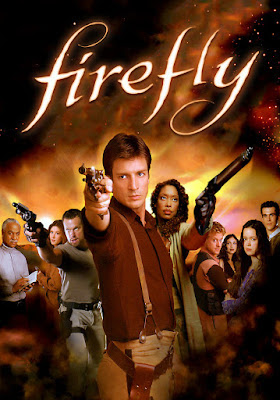 PS it is nice to have another Firefly we can enjoy - at the moment - who knew what they were working on after the series finished? They are one busy crew.
07/10/19 10:00
The
Microcosms
website still seems to be having severe issues. I posted the results off a couple of weeks ago and due to those issues the results have yet to be posted up. In the interim whilst the website elves deal with the gremlins here are the results. Hope the Microcosms site is sorted soon.


RESULTS - WEEK 172


As someone who never spins on principle I was surprised at how many did this week. That said, I hadn't looked at the page until after I had completed the judging (which reminds me: thanks Sal for sending me the stories minus the authors so I could do the judging blind). I assume the spinning was to avoid the steampunk form, which may be a bit constraining and not an obvious choice so I do understand the spinning; and after all the option is there for a reason.

There were eight entries this week, but one was using the previous week's prompts which I've discounted - not sure whether this has appeared in the wrong section due to some of the current issues the site has been experiencing.

There was a fun range of stories taking in time-travel to Stonehenge, steam-driven aeroplanes, environmental activism, transcendentalism, and the mundanity of war. Well done to all, it was pleasure to read them.



Favourite Lines

Earth Daze

After the massive marches in the States, the exhilaration of them, the fear of what they signified, Lucy asked, "What if…" and she hesitated a fraction, "what if we dedicated our lives to the earth?"
Sunset At Stonehenge

All human eyes were fixed on the sunset, so none noticed the otherworldly traveler who stepped from the shadows of the eastern arch.

The Transcendental Artist

'I'm going to paint my way out of here,' I told myself.
Five Words Screaming

But the message itself – the message was always the same:

I regret to inform you…
Per Ardua Ad Astra

It was a large machine, larger than any steam-powered aeroplane flown so far, it had to be to accommodate all the coal required to reach the fabulous speed expected of it.

The Gold Mine

A gigantic steamy bird is taking off: miners are on board cheering and screaming towards the freedom

On Pain of Death

"Everyone," her voice cut through the flurry of screams. "Remain calm."
Oscar (previous week's challenge)

"Having trouble finishing my sentenc… " Oscar said. Oscar 99-101 refilled his bowl with organic, unsalted puffed peas.
Er… maybe an issue with the website?


Winner:

Five Words Screaming : Ellen Grace

Tightly written story and evocative of the hopes and expectations of the protagonist. Dreaming of helping the war effort, sending messages that would impact on the war effort–help in winning it. Then these hopes to be dashed (and dotted) by being given the task of sending out death notices time and time again. Well done. Lovely job.

Runner-Up

The Transcendental Artist : KJ Watson

What fun we'd have if we could paint what we needed or wanted to happen. Great idea, nicely paced, well written and totally fun.