Last Zoom Open Mic?
We last had a Zoom Open Mic on New Years Eve, which is apparently about three months ago but definitely feels like a year or so. At the time we said it'd be a regular event especially with the lockdown which just arrived the day before. As it happened it did not become a regular thing at all. I'm out of the loop as I don't have Facebook so I miss the chat about it and get a handle on whether it's almost taken place a couple of times or not. And can't really help in the organisation of it if I don't have FB.

Finally last Saturday we did have our first Open Mic of the year. And hopefully the last one to be done using Zoom - if the lockdowns have finally worked their stuff along with the vaccinations. In theory the pubs will reopen indoors from May 17th, although events like the Open Mic won't be permitted until another month or so after that (21st June). Fingers crossed for that.

The Open Mic was accompanied by a good portion of a mini keg of Mosaic that I'd picked up at Neptune Brewery the day before. I took the keg out the fridge and brought it into the spare room so I didn't need to go up and down all the time to top my glass. Certainly helped with getting through a few pints.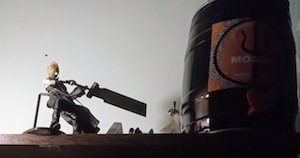 Cloud Strife watching over the Neptune Mosaic

In the end I was on the Zoom call from about 7:45 through to 1.00am. So it wasn't much of a wonder that a few beers were breached.

As it happened there were quite a few missing regulars, who'd kind of indicated that they would/may be there but didn't turn up. It was a bit of a shame really not to see everyone's familiar faces - and hear their songs. There were only three of us playing songs using guitar or keyboards, and Matt telling us stories. I only sang four songs as if I'd done any more I'd have felt like I was taking it over a bit. I'd have happily sung six or seven if others had been doing the same. Never mind.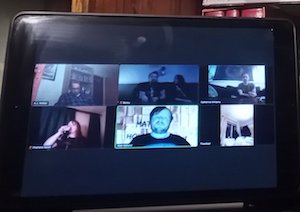 Not many of us online this time. Think there some good repeat on the telly.
I sang Chuck Prophet's '
Somewhere Down the Road
,' Ryan Adam's '
Sweet Carolina
,' Bright Eyes '
Landlocked Blues
' and Barenaked Ladies '
It's All Been Done
.'

It was good to see the familiar faces that were there - on what may be the last weekend of the year that we couldn't be in (or at least outside) a pub. Roll on the next Open Mic: wherever and whenever it may be. It'll be a while, I dare say, but it will be fucking great.