ReadMeSpeakMe Catch Up
For one reason and another I'd missed the last month of recording the weekly
ReadMeSpeakMe
. I've usually been quite good at recording on the Sunday when it goes out on Twitter
@ReadMeSpeakMe (#ReadMeSpeakMe).
Yesterday I managed to do the last four weeks of readings and a sudden burst of activity. Got them all up quickly one after the other on YouTube. One was shorter than a minute long (much less preamble than my usual mumbling) so YouTube automatically put it up not as a
video
but as a
short
. Not quite sure what the difference is. I've still got this weeks left to do, which I'll sort out during the week. Bit of a busy week this one by the looks of it so I may need to wait until the weekend.

Even if it ends up being the weekend I certainly shouldn't be falling a month behind again at any rate.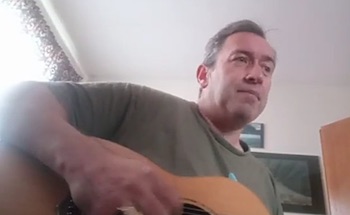 Strumming

After I recorded the various poems I also recorded me strumming a couple of songs, which I haven't put out there for a while. Partly it was because a) it was so long since I last recorded my strumming and b) because I didn't do an open mic this week. I attended most of the one at the Head of Steam, but it was a bit different this week with only three or four lots of people playing and I didn't really get the opportunity to get up there. I popped up too to the Keystone and caught the last guy playing there which was nice to catch. By that time there was neither the opportunity or desire from me to get up again. So a
YouTube strum
was enough instead.