Glory Hallelujah
Glory, Hallelujah!


Well bloody hell, I got a great email: won tickets to see
Frank Turner
in
Liverpool
. Now as you may well have spotted, or if you know me even a little, he's been my favourite singer songwriters for heading towards ten years now. And I've been lucky enough to see him several times including the sold out Wembley Arena gig in 2012, Liverpool Academy, Bath, and two sets at Glastonbury Festival.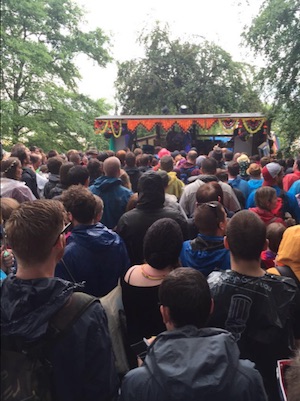 Watching Frank at Strummerville, Glastonbury (day before his Other Stage appearance)

And this gig in Liverpool is at a top local Brewery. Literally top:
Top Rope Brewery
. They have a beer out now with Frank Turner all over it. It's called
'The Gathering'
which is Frank's recent release celebrating all things about the end of lockdown and singing and getting together and having a good time and all that. It's honestly the first time I've drunk a beer out of a can: and then kept the can. Hell, I told you I'm a fan.

It's a gig by my top singer songwriter playing at a brewery. I mean come on "If Carlsberg did gigs..." well, not Carlsberg. But you know what I mean. Funnily enough last time I saw him in Liverpool it was the Academy i.e. the Carling Academy and there was a Frank Turner beer out then: '
Believe
' a wheat beer brewed by
Signature Brew
. Because it was the Carling Academy they wouldn't stock it, so we were directed to
Mojo
to grab a bottle there before the gig - which I did of course (and it was Movember).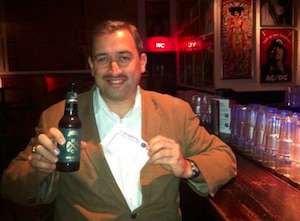 Believe (Signature Brew) in Mojo (with a Movember tash)

The Gathering is about the end of lockdown and we're not quite there. Things won't be normal until all restrictions are gone. Not sure when that will be now. But hopefully we are heading that way. The location and the restrictions means there will be fewer than 100 people at the gig. I mean that will mean I've seen him play at a packed Wembley Arena first and my latest time seeing him will be in front of 100 people. How bizarre is that? He loves gigging more than any other band or person I've seen. He itemises all his appearances: yesterday's show at Download Festival was show No.2562. That is A LOT of shows. And it must have been such a release for him to perform in front of a crowd again.


At Top Rope Brewery with a can of 'The Gathering'

Wonder how many bands and singer songwriters have winked out of existence because of not being able to play live for over a year? In an industry where time is of the essence we could have lost a lot of seriously good artists. They don't make money from plays on
Spotify
or
YouTube,
they need gigs and merchandise to survive in these days of no longer selling physical albums.

This will be my first gig since seeing
Romeo Stodart
at the
Liverpool Philharmonic Music Room
in March 2020 (I've also got tickets to see
The Magic Numbers
in Liverpool in September), and I can't fucking wait!