Liverpool: Reopening Crawl
So over three months after all the pubs, bars and restaurants (and hairdressers) closed pubs were finally allowed to open again to sell beer to people to drink at their establishments. This has become a thing of dreams to some, but no doubt a thing of nightmares to some people. I wrote a piece previousl about the closure of pubs back in March which you can
read here.
The media called it
Super Saturday
along with other crass headlines. Personally I was looking forward to it with the understanding that it would not be the same and I was intrigued how it would work. But more importantly my hair really needed seeing to as I was looking like a cross between Michael Hestletine and Alan Partridge. I hadn't booked anything. As I go to a little barbers I wasn't sure how they'd do it.
Ready for the bus
First up after putting up the
Seedling Challenge
page was to get ready to go. I had my bandana of course. It was strange putting jeans, a shirt and my leather on. I don't think I've left the house not in shorts and T-shirt for a couple of months (though recently with hoody or other top due to all the wind and rain). Then it was of to get the number 17 into town. It was my first time on a bus since March 19th. From the seven people on the bus the only two who didn't wear masks was what appeared to be a granny and grandson. She seemed mortified as we got on and she realised they had nothing and she told the boy to pull his hoody down over his face.
With stickers on the window indicating which seats were open for use and which weren't it was interesting to see. I saw a couple of women sat next to each other which wasn't in accordance with the rules. But in the main it wasn't too bad and the windows were ajar too.
Got some cash out at a machine on London Road with the intention to walk down the hill past my usual barbers. If it was quiet my aim was to get a haircut. It wasn't and the customers waiting were sat elbow to elbow in there: not for me!
With a haircut put on hold I was ready to head into a pub or two to see what was going on and to support them. I walked past the Crown towards the Dispensary first. There was a last minute adjustment being made to a rope barrier by the front door, and I asked when it was opening. I was told "Now" if you want. And so it was that I went into the
Crown
as my first pub for reopening. But as I looked across the floor to see the markings on the and was guided to where I should go and sit I couldn't see any cask on. "Any cask on, mate?" "There's only Doom Bar–you'll be lucky to find any cask in town today, mate." "I think I know a few places..."
And so it was, my first pub post reopening was left before I got 2 metres from the door, let along 2 metres from another customer.
I reverted to my original plan to head to the Dispensary, but had to pause to take a photo and genuflect in front of the
Sanctuary
. Very depressing.
First thing at you spot at the
Dispensary
are the smart new (and large) tables and umbrellas. A great addition for an outdoor drink or two compared to the ad hoc wee table and chair arrangement they had previously. Indoors I was directed to a single chair to sit at near the fireplace and told before I could order I needed to text a phone number and then when I got a reply text my name. For groups of people only one person in a group would need to do it. It was an interesting way to do it and I wondered how much texting I'd be doing after another few pubs. Service was at the table.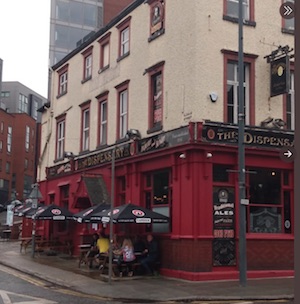 New Dizzy Seating

There were only three cask on, which is fair enough given the unknowns and the smaller number of people they can get in the pub–with no standing. So my first reopening pint was an
Ossett
'
Silver King
' and my second was a
Rat
'
White Rat
'. Other than the signing in the only issue I had was the seating. Drinking alone as Billy No Mates you of course don't get offered a table but a standalone chair without a table. The chair was rickety, so I moved to a second chair. A group of three sat on a nearby table which eventually became six. Once there were six there then they were right on top of me (not 1 metre) so I had to return to the first chair again. Ultimately everyone is on a learning curve. The landlords, the service staff, and the customers.

First Reopening Pint: a Silver King in the Dizzy
Bumped into a couple of CAMRA guys who were similarly looking to support the pubs and see what was happening.
Next up I'd decided to head down to the
Bridewell
. The service is always great with Dom works so table service would be right up their alley anyway. And his ale is always good too. This time the pub was pretty full and I ended up sat outside in the mizzly rain. Not ideal but not the end of the world either. This time there was no texting. Just write down your name and phone number on a record sheet by the door. Less messing about.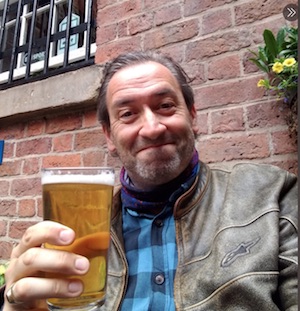 Bridewell Pint: note damp (and long) hair
Read a couple of pages of a book on my
Kindle
but the rain wasn't helping. Ended up with two pints once more, this time
Kirkstall
'
Three Swords'
and
'Pale'.
Third up was another pub I knew from Twitter/Instagram was open: the
Baltic Fleet
. Here I picked my beer at the bar and then it was brought around to me. I didn't fill in any sheet or text anything. At least I got a table inside this time. Had a
Brimstage
'
Trapper's Hat
'.

The Baltic Fleet

I decided I'd head into town. I knew the
Ship & Mitre, Rigby's
and
Dr Duncan's
was open which were all worth a go. But as it happens I saw a couple of people walk out of the side street by the
Cornmarket
and found it open. Here I bought the beer at the bar and took it to a comfortable leather sofa by the window. Again I wasnt asked to fill anything in. The pub was quiet, the moment: nice.

Cornmarket beer, Alan Partridge hair
Just had the one and headed next to
Rigby'
s. Incidentally I'd heard earlier that they'd laid of the manager of the
Fly in the Loaf
which I was incredibly disappointed to hear. The Fly has always been run very well since Dom and beyond. Not sure who or when the Fly is reopening, but it is strange that one of the
Okell'
s pubs was opening and not the other.
As it turned out I had a mixed blessing at Rigby's. I was told to wait by the entrance while they found a table for me. I could see an empty table with one chair in front of me. The pub was quite busy though. Whilst I waited some guy came in and walked straight in and sat at the table (there was a couple behind me too). I was then told there was no room at the Inn. I was not a happy puppy. After a bit of a harrumph I left only to find it had been a wonderful conjunction of events, for I walked past a barbers a few doors down which was large and empty. I ended up being the last person in getting a haircut. No issues with social distancing: in and out, and a bloody great haircut. Hallelujah!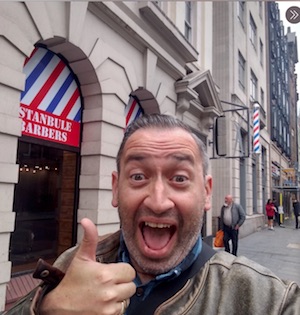 Forget Accidental Partridge, I got an accidental haircut!
Having calmed down I thought I'd try Rigby's again. I failed to get in again (and the bastard who'd taken my table was still there reading some crap tabloid... grr). Like I said; we're all on a l
earning curve
. Deep breathe.... ahhhhhh.
After finding Cornmarket was open the next one I found that I hadn't spotted on Social Media was the
Vernon
–I knew the
Lion
wasn't open yet. Was directed to an uncomfortable position in the back room. Definitely an issue for solo drinkers: if you don't get the choice you're gonna get given the worse places to sit.
Nearing the end of my
Reopening Crawl
I headed into the
Excelsior
. It was pretty quiet. Picked an okay seat and had a
Titanic
'Plum Porter'
. It was dearer than the last time I was in there–when they were selling it off at £2 a pint on the last day I'd been out before the lockdown closures. It felt symmetrical. The Ship & Mitre had an early closing (and was closed on Sunday to evaluate how it went) so I never made it in there.

Titanic Plum Porter once again in the Excelsior
When I'd gone out that day (19th March)
Dr Duncan
's had been closed. It may have been a bit early closing but it was open again the first chance it could. Hence my last pint, back by Queen's Square buses, was Dr D's. Had a nice chat with the staff and a couple of customers. Suitably distanced off course.
All in all a nice crawl and good to see so many pubs open.
Key findings (other than the actual beer):
Everywhere is doing the

name taking

(or not) differently (it

is

currently guidance, not a legal requirement).

Fewer beers

on (fewer customers and fewer beers available so no issue with that).

Prices had gone up

considerably in one pub (I'll let you discover which one). That may be a difficult balancing act with drinkers used to drinking at home now, but these guys have been shut for ages and need to make money with a smaller number of customers allowed in.

A bit

random getting seated

. And being on your tod, or maybe in a group of two, you can anticipate being hidden in a corner or in an awkward area of the pub where they cant fit a group.

It's not the same having to be seated

and not roaming around as and when. But you

can

still socialise a little with the nearby customers and anyone you spot from your seated position

–

which after over three months not seeing anyone is

bloody marvellous

.

Everyone is on a learning curve

- us–the drinkers– and them–the guys and gals serving the stuff. Be good, be calm, be patient.
I had no issues with
social distancing
other than having to move myself away from a group in the Dizzy, but that was easily dealt with. Everywhere staff were cleaning regularly and there was hand sanitizer available.

Great to find these pubs open–and for me to drink in seven of them:


Crown

Dispensary

Bridewell

Baltic Fleet

Cornmarket

Rigbys

Vernon

Excelsior

Ship & Mitre

Dr Duncans
Looking forward to the
Grapes, Head of Steam,
the
Lion
and the
Fly
reopening: when they are ready. Still absolutely gutted about the
Sanctuary
.

And the best thing about Super Saturday? Accidentally getting a haircut. Get in!