The New Normalish
So on Monday the times are changing - apparently. Things are returning to normal-ish. And to be fair it really is a bit of a mess. I can't tell whether it is by genius design or manic ineptitude. I mean the Government have all the data and advice they could possibly ask for. So you'd have to think it is more by design than accident. Next week restaurants, bars and nightclubs can open "as normal" (along with everything else like theatres and cinemas etc) and not require scanning in, table service and the Rule of Six: just as the UK have the highest rate of Covid-19 infection in the world. Due to the opening up next week this can only accelerate.

It looks like the Netherlands will briefly overtake the UK tomorrow. And why? Because they'd opened up fully a few weeks ago and this damn Delta Variant has done its thing.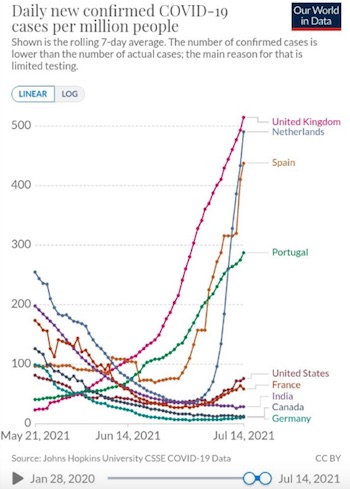 The vaccinations have been going well, which is great. But many of the people who have been vaccinated seem to think it gives them 100% protection and that once you've had it you're okay to carry on as if the virus doesn't exist; that they are walking around as if in some Iron Man protective gear. It doesn't protect you 100% and you wouldn't expect it to. Estimates of protection of the different vaccinations range between 60 and 80%. To put it another way if your group of four people at the bar or in the club on Monday are all exposed to the virus then one of them could be anticipated to contract the disease. It should make you think.

Of course the vaccination should make it much less likely that you would contract it with
serious
effects and you are less likely to pass away or end up in hospital. Whoopee! That is great news. And all the data shows the deaths have continued to be low despite that major rise in the virus.

It is nice to know we are less likely to die. But the complacency about the virus now seems to be endemic. Cultivated by the Government's attitude and push to open up. I of course can't wait to be able to buy a pint at the bar rather than the whole "wait to be seated" and then be served at the table thing. And it'll be great for the businesses not to have to employ more people to do the table service - just when there are fewer people in the place than they'd normally have.

Hopefully as everyone gets vaccinated the disease will fall away substantially, but that is not going to happen next week. In the meantime a lot of the younger people - including many of the staff who work in the hospitality sector - wont have had two jabs yet so will be more exposed than us old uns.

Then there is Long Covid. I actually don't directly know that many people who've had the virus. But of the few I do know there are two who have bad Long Covid symptoms involving either losing their taste completely or worse still having an awful taste & smell replacing what they should be sensing. Neither of these two had severe Covid at the time (six months ago) but have now been suffering for months - and one is in their twenties.

Apparently other symptoms of Long Covid includes brain and heart damage. I mean both of those sound like things you don't want. The Government seems not to want people to avoid the virus. They don't want you to die (always good for a government I guess), but they are happy for you to go out and catch something which could be permanently life damaging (apparently okay for a government and seemingly okay for the majority of the electorate - go figure).

I for one don't want the disease. And I don't want anyone else to get it either. I'll continue to try and drink outside or in the better ventilated or larger rooms of the pubs: and in the quieter pubs. I'll be continuing to use a face mask too. Of course, wearing a mask is supposed to reduce the chance of you passing an airborne disease on; it is not the point of it to protect you
per se
. So if I'm the only one in a mask then it really won't be much use. But I'm expecting a lot of people will continue with them despite not needing to legally.

I really feel for the business owners and managers themselves. They've got horrible decisions to make now that they can legally not wear masks or ask others to. They are responsible for the health and safety of their staff - and themselves - and the government has now said legally they don't need to wear them, but the advice is on ever shifting sands. Being told you should but don't need to do something is a nonsense. How is a manager of a restaurant or bar going to feel exposing themselves and their staff right now to the virus when it's rising so precipitously? It's very much a Catch-22 situation for them with the Government washing their hands (or not washing them) of the whole thing.

Personally I think the Government should continue to persuade people to reduce exposure through wearing masks on public transport and in small and/or busy venues (especially in places of poor ventilation). I don't want Long Covid and the Russian Roulette of what it can deliver to you. That said I'll be glad that all venues will have a better chance of getting a few more people through the door: a better chance to survive. I'll continue to venture out as I have been. But I'll also continue to try and make appropriate decisions too.

In the meantime get vaccinated as soon as you can AND remember it is not a 100% effective barrier to you getting the disease. Maybe think about wearing a mask - especially if you're ever on the No.17 bus into Liverpool. You don't want a damaged heart or brain damage because Boris and our representatives don't care. Stop and think a little.

Good luck to everyone for the duration of this medical emergency/experiment. Be good. Be careful. Support your local businesses as best you can.